Charlie's Angels (2000-03 / 2019)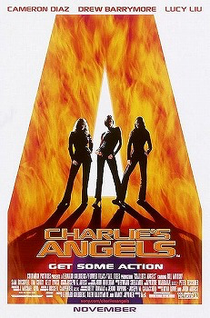 CHARLIE'S ANGELS (12)
D: McG
Sony/Columbia/Flower/Tall Trees (Leonard Goldberg, Nancy Juvonen & Drew Barrymore)
US 🇺🇸 2000
98 mins
Action/Adventure/Comedy
W: Ed Solomon, John August & Ryan Rowe [based on the television series created by Ivan Goff & Ben Roberts]
DP: Russell Carpenter
Ed: Wayne Wahrman & Peter Teschner
Mus: Edward Shearmur
Cameron Diaz (Natalie Cook), Drew Barrymore (Dylan Sanders), Lucy Liu (Alex Munday), Bill Murray (Bosley), Sam Rockwell (Eric Knox), Tim Curry (Roger Corwin)
The original television series of Charlie's Angels which ran from the late 1970's to early 1980's was never meant to be taken seriously. Full of camp comedy, high jinks and sexy ladies, this big screen update does manage to get the most part right, and the three main stars make for a good action trio.
Unfortunately, the film is let down by a cookie cutter plot and some rather atrocious direction.
Natalie, Dylan & Alex are the angels, high-kicking agents with beauty, brains and brawn, who are given a mission of finding a software developer who has been kidnapped.
It's all played for laughs, but it's sometimes a little too silly, especially with Tom Green's woefully unfunny cameo appearance. It's also directed like a flashy MTV music video, although that's probably to be expected when the director is called McG.
Dumb fun, though it could have been so much better.
5/10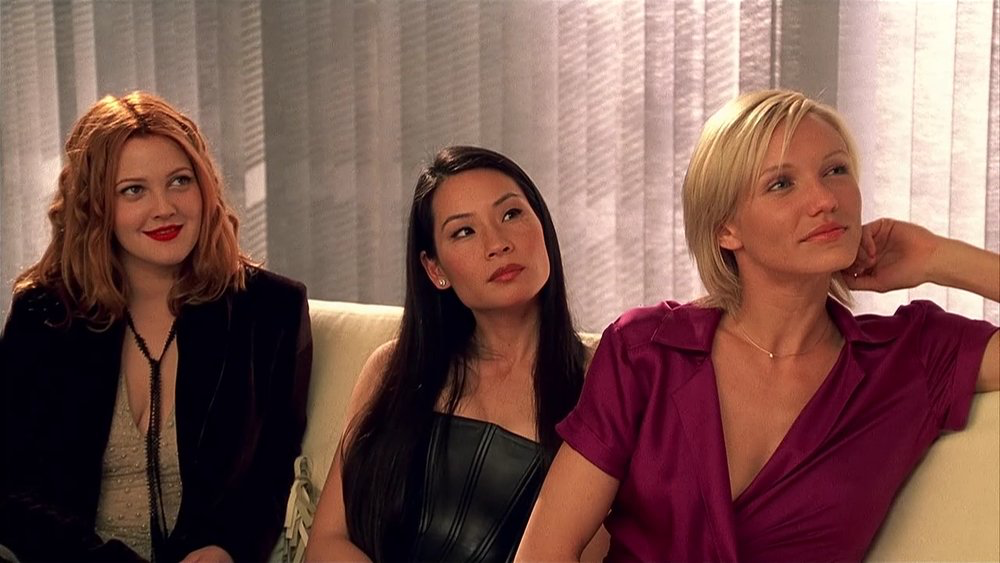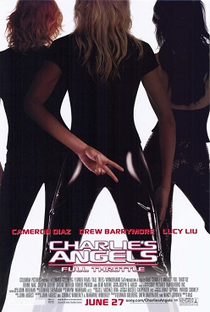 CHARLIE'S ANGELS: FULL THROTTLE (12)
D: McG
Columbia/Flower/Tall Trees/Wonderland (Drew Barrymore, Leonard Goldberg & Nancy Juvonen)
US 🇺🇸 2003
106 mins
Action/Adventure/Comedy
W: John August, Cormac Wibberley & Marianne Wibberley [based on the television series created by Ivan Goff & Ben Roberts]
DP: Russell Carpenter
Ed: Wayne Wahrman
Mus: Edward Shearmur
Cameron Diaz (Natalie Cook), Drew Barrymore (Dylan Sanders), Lucy Liu (Alex Munday), Demi Moore (Madison Lee), Bernie Mac (Jimmy Bosley), Crispin Glover (Thin Man)
Cameron Diaz, Drew Barrymore and Lucy Liu reprise their roles in this poor sequel to the 2000 film.
The plot is more of the same with the Charlie's Angels trio high kicking their way through another adventure, this time against a former Angel who has since turned rogue.
The film is fun to a point, but is hampered by a terrible screenplay crammed with juvenile humour, complete with some truly pointless scenes just to some give cameo roles to John Cleese and Joey from Friends (an improvement on Tom Green from the first film, but pointless nonetheless).
The real problems come from the direction of "McG", with every scene either looking like clips from a music video or cut scenes from a video game. 
Like the first film, Drew Barrymore and Lucy Liu are fine, but Cameron Diaz is certainly the weak link of the group. Her performance borders on embarrassing, and the less said about Demi Moore, the better. She's probably the only thing in this film worse than the visual effects.
4/10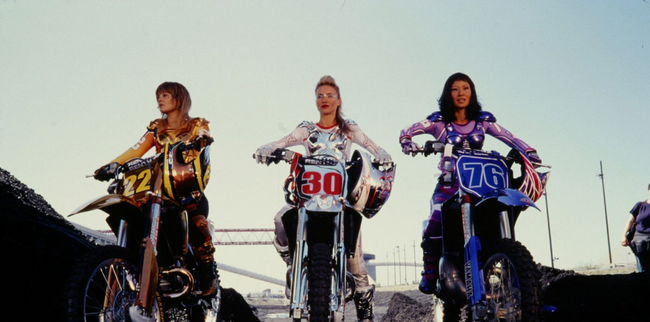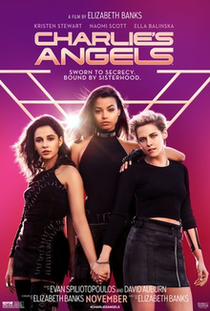 CHARLIE'S ANGELS (12)
D: Elizabeth Banks
Sony/Columbia/Perfect World/Brownstone/2.0 Entertainment (Doug Belgrad, Elizabeth Cantillon, Max Handelman & Elizabeth Banks)
US 🇺🇸 2019
119 mins
Action/Adventure/Comedy
W: Elizabeth Banks [based on the television series created by Ivan Goff & Ben Roberts]
DP: Bill Pope
Ed: Alan Baumgarten
Mus: Brian Tyler
Kristen Stewart (Sabina Wilson), Naomi Scott (Elena Houghlin), Ella Balinska (Jane Kano), Elizabeth Banks (Rebekah / Bosley), Patrick Stewart (John Bosley), Djimon Hounsou (Edgar "Bosley" Dessange), Sam Claflin (Alexander Brok)
Like the films released in 2000 and 2003 and the original television series, this 2019 update of Charlie's Angels is throwaway action-adventure fun, though the forced feminist message does get quite tiresome over the 119 minute runtime.
Kristen Stewart, Naomi Scott and Ella Balinska make up the secret agent trio this time around, as they tackle a plot surrounding a new energy system that could actually be used as a weapon... but the real enemy here is men, because toxic masculinity was a shield that the filmmakers hid behind when poor reviews started coming in from those evil male film critics.
In fairness, the film isn't anywhere near as terrible as I expected it to be, and I really liked both Naomi Scott & Ella Balinska's characters and their interactions with each other. However, I really wasn't keen on Kristen Stewart's rebellious Angel and thought she was incredibly miscast. Writer-director Elizabeth Banks also stars as a female Bosley, but this casting only seems to be for her own ego. The screenplay is crammed with girl power sentiment and chauvinistic male characters to the point that practically every single male character is a douchebag, weakening a plot twist that comes in the final act. Banks doesn't have the experience to direct action scenes either, relying on editing techniques rather than choreography to piece together the set pieces.
Flawed for sure, but I still enjoyed this marginally better than Charlie's Angels: Full Throttle.
4/10