Chariots of Fire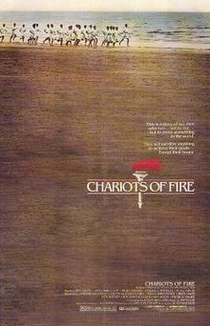 CHARIOTS OF FIRE (U)
Mus: Vangelis
Ben Cross (Harold Abrahams), Ian Charleston (Eric Liddell), Nigel Havers (Lord Andrew Lindsay), Nicholas Farrell (Aubrey Montague), Ian Holm (Sam Mussabini), John Gielgud (Master of Trinity), Lindsay Anderson (Master of Caius), Nigel Davenport (Lord Birkenhead)
A rather turgid and pompous movie, which was thought very highly of by the Academy Awards who bestowed it with four Oscars, including Best Picture of the year.
It's a BBC-like drama about a Jewish and a Scottish athlete who represent Britain at the 1924 Olympics. 
Despite being incredibly overrated, it does feature one of the most iconic movie scores of all time which is easily the best thing about it.
7/10