Catwoman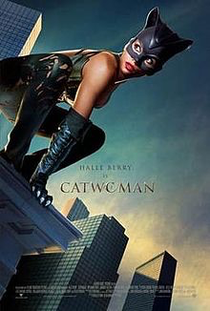 CATWOMAN (12)
Warner Bros./Village Roadshow (Denise Di Novi & Edward L. McDonnell)
W: John Brancato, Michael Ferris & John Rogers [based on characters created by Bob Kane]
Halle Berry (Patience Phillips / Catwoman), Benjamin Bratt (Det. Tom Lone), Lambert Wilson (George Hedare), Frances Conroy (Ophelia Powers), Sharon Stone (Laurel Hedare), Alex Borstein (Sally)
If you're expecting some sort of commercial tie-in to Batman, be disappointed. This really has nothing to do with Gotham City and barely touches on the DC comic universe at all.
The movie itself performs an almost impossible feat, it takes Halle Berry, amongst the sexiest film stars in the world at the time of its release, and the sultry, sexy villainess Catwoman, and makes a truly repugnant character out of the two of them.
As an origin story, it doesn't really deliver anything new to the character and eventually boils down to two women arguing over makeup and cosmetics (seriously, it's true).
A fine example of a terrible movie. Put it down immediately.
1/10