Cats & Dogs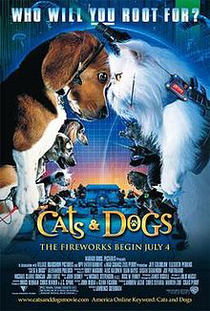 CATS & DOGS (PG)
Warner Bros./Village Roadshow/NPV/Mad Chance (Andrew Lazar, Christopher DeFaria, Warren Zide & Craig Perry)
W: John Requa & Glenn Ficarra
Ed: Michael A. Stevenson & Rick Finney
Jeff Goldblum (Prof. Charles Brody), Elizabeth Perkins (Carolyn Brody)
voices of: Tobey Maguire (Lou), Alec Baldwin (Butch), Sean Hayes (Mr. Tinkles), Susan Sarandon (Ivy), Joe Pantoliano (Peek), Michael Clarke Duncan (Sam), Jon Lovitz (Calico), Charlton Heston (The Mastiff)
007-style adventure with domestic pets about a cat's sinister plans for world domination and a puppy's attempts to stop it.
It's all very silly, but found it's audience of under-10's chuckling along with it's banality.
As a family film it isn't terrible. It certainly could have been worse (represented by the sequel, subtitled "The Revenge Of Kitty Galore" which was released a few years later).
5/10