Cat Ballou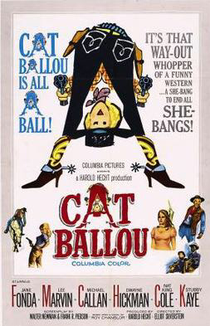 CAT BALLOU (PG)
D: Elliot Silverstein
Columbia (Harold Hecht)
USA 🇺🇸 1965
96 mins
Comedy/Western
W: Walter Newman & Frank Pierson [based on the novel "The Ballad of Cat Ballou" by Roy Chanslor]
DP: Jack A. Marta
Ed: Charles Nelson
Mus: Frank DeVol
Jane Fonda (Catherine 'Cat' Ballou), Lee Marvin (Kid Shelleen / Tim Strawn), Michael Callan (Clay Boone), Dwayne Hickman (Jed), Nat King Cole (Sunrise Kid), Stubby Kaye (Sam the Shade), John Marley (Frankie Ballou)
An eccentric mix of comedy & western, with even a little music thrown in and a style of humour that almost leans towards spoof.
Jane Fonda is resplendent as the title character, who hires a drunk old gunslinger to avenge her father's death at the hands of Tim Strawn, a silver-nosed bandit doing the dirty work for a town of corrupt officials who want the Ballou ranch and lands for their own purposes.
It's a star-making role for Jane Fonda, though it could be argued that she's upstaged by Lee Marvin in a dual role as both the cowboy hero and the dastardly villain. The Oscars certainly seemed to think so, honouring the screen veteran with the Best Actor trophy for this film.
The humour is often very silly, but at times it's incredibly funny, with some witty dialogue that provides the great cast with lots of comedy ammunition.
7/10