Casino Royale (1967)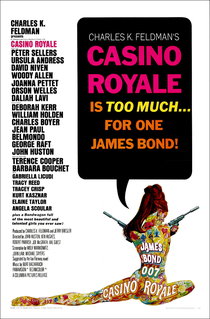 CASINO ROYALE (PG)
D: John Huston, Ken Hughes, Robert Parrish, Val Guest & Joseph McGrath
Columbia (Charles K. Feldman & Jerry Bresler)
W: Wolf Mankiewicz, John Law, Michael Sayers, Billy Wilder, Val Guest, Joseph Heller, Ben Hecht & Terry Southern [based on the novel by Ian Fleming]
DP: John Wilcox, Jack Hildyard & Nicolas Roeg
Peter Sellers (Evelyn Tremble), Ursula Andress (Vesper Lynd), David Niven (Sir James Bond), Orson Welles (Le Chiffre), Joanna Pettet (Mata Bond), Daliah Levi (The Detainer), Woody Allen (Jimmy Bond)
A spoof of James Bond which wasn't part of the official 007 franchise and rightly so. The movie is a huge mess. So much so, that I'm not even going to bother explaining the premise, I'll just usher you towards the 2006 film of the same name, which actually had the courtesy to feature a coherent narrative and credible performances. This film has a good theme song ("The Look of Love") and that's all it has.
Five directors, several screenwriters resulting in an incomprehensible plot with barely any jokes worth a chuckle. The saying "too many cooks spoil the broth" has never been more apt.
The 2006 version provides deserved justice to Ian Fleming's first Bond novel.
2/10