Carrie (1976/2013)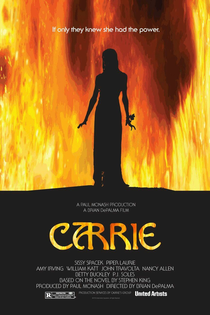 CARRIE (18)
United Artists/Red Bank (Paul Monash)            
W: Lawrence D. Cohen [based on the novel by Stephen King]
Sissy Spacek (Carrie White), Piper Laurie (Margaret White), Amy Irving (Sue Snell), William Katt (Tommy Ross), John Travolta (Billy Nolan), Nancy Allen (Chris Hargenson), Betty Buckley (Miss Collins)
Featuring one of the classic scare scenes in cinema history, Carrie hasn't dated too badly.  Sissy Spacek is exceptionally well cast as the title character, a repressed schoolgirl who discovers she has telekenetic powers, but the film ultimately belongs to Piper Laurie as Carrie's mother, delightfully over the top as a religious zealot and the movies true villain. The first film to be adapted from a Stephen King novel and still amongst the best. 
An inferior sequel "The Rage: Carrie II" followed in 1999, before a remake with Chloë Moretz as the title character.
8/10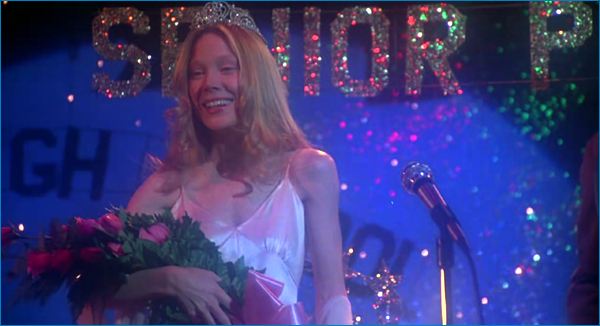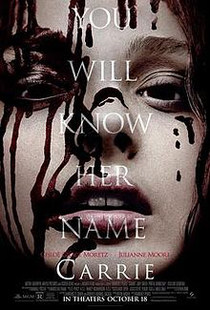 CARRIE (18)
MGM/Screen Gems (Kevin Misher)
W: Lawrence D. Cohen & Roberto Aguirre-Sacasa [based on the novel by Stephen King]
Chloë Grace Moretz (Carrie White), Julianne Moore (Margaret White), Judy Greer (Miss Desjardin), Portia Doubleday (Chris Hargensen), Alex Russell (Billy Nolan), Gabriella Wilde (Sue Snell), Ansel Elgort (Tommy Ross)
Pathetic remake of the 1976 horror classic for the Facebook generation. 
It's obvious that the filmmakers here failed to realise that the reason the original film was so good was due to the performance of Sissy Spacek, who played the telekinesis-gifted schoolgirl with such demure innocence that she was never the real monster, but her religiously-crazed mother was. Here, Chloë Grace Moretz is always creepy as the shy, bullied schoolgirl, which doesn't help evoke sympathy in the infamous prom scene, which here goes completely over the top with CGI effects and pyrotechnics.
Another lazy remake which should never have been given the studio greenlight. Refer to the 1976 version instead.
2/10