Carol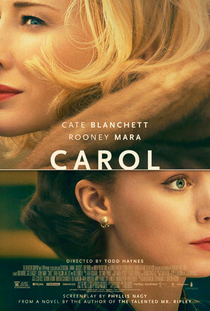 CAROL (15)
D: Todd Haynes
Studio Canal/The Weinstein Company (Elizabeth Carlsen, Stephen Woolley & Christine Vachon)
W: Phyllis Nagy [based on the novel "The Price Of Salt" by Patricia Highsmith]
DP: Ed Lachman
Mus: Carter Burwell
Cos: Sandy Powell
Cate Blanchett (Carol Aird), Rooney Mara (Therese Belivet), Sarah Paulson (Abby Gerhard), Kyle Chandler (Harge Aird), Jake Lacy (Richard Semco)
During the Christmas season in 1960's New York City, a department store worker and aspiring photographer develops a friendship with an older, upper-class woman trapped in a marriage of convenience, fighting a bitter divorce and custody battle. Before long, the relationship between the two women becomes more intimate.
This exquisitely filmed, multi-layered melodrama has shades of mystery filtered into the story, based on Patricia Highsmith's groundbreaking novel "The Price Of Salt", and though the story feels a little stretched over the running time, the performances of the two leads are nothing short of excellent.
It may have been a surprise that Todd Haynes' drama failed to be nominated for Best Picture or Best Director at the Oscars, but the real fraud is that Rooney Mara was classed as a supporting actress, despite being the main character in the film to Cate Blanchett's title character. Mara brings a true innocence to the role, with facial expressions which tell a better story than most scripts. 
A beautifully told love story which could be classed as Brief Encounter for a new time and a new generation.
8/10