Captains Courageous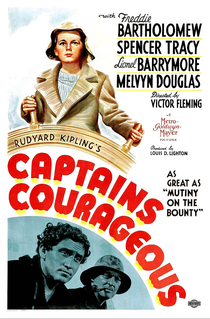 CAPTAINS COURAGEOUS (U)
D: Victor Fleming
MGM (Louis D. Lighton)
US 🇺🇸 1937
115 mins
Drama/Adventure
W: John Lee Mahin, Marc Connelly & Dale Van Every [based on the novel by Rudyard Kipling]
DP: Harold Rosson
Ed: Elmo Vernon
Mus: Franz Waxman
Freddie Bartholomew (Harvey Cheyne), Spencer Tracy (Manuel Fidello), Lionel Barrymore (Capt. Disko Troop), Melvyn Douglas (Frank Burton Cheyne), Mickey Rooney (Dan Troop)
Despite winning the first of his two Oscars for his work in this film, Spencer Tracy never cared for his performance as a Portuguese fisherman in Captains Courageous, and it does feel like a casting decision that only could have happened under the old studio system of Hollywood's Golden Age.
Nevertheless, Tracy steals this movie with an immensely likeable character in this coming-of-age adventure set aboard a fishing schooner.
Freddie Bartholomew plays a spoilt brat who joins his father on a transatlantic voyage and falls overboard, subsequently rescued by the fishing boat where he is told he must work as a crew member to earn passage.
Based on the novel by Rudyard Kipling, the film has a strong message about maturity and there's a good on-screen partnership between Bartholomew and Tracy.
It all looks a little dated now, but it's as fine a film they could have made from the source material in the late 1930's.
7/10