Captain Blood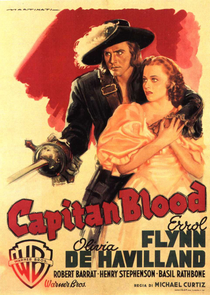 CAPTAIN BLOOD (U)
D: Michael Curtiz
Warner Bros (Harry Joe Brown & Gordon Hollingshead)
US 🇺🇸 1935
119 mins
Adventure
W: Casey Robinson [based on the novel by Rafael Sabatini]
DP: Ernest Haller & Hal Mohr
Ed: George Amy
Mus: Erich Wolfgang Korngold
PD: Anton Grot
Cos: Milo Anderson
Errol Flynn (Peter Blood), Olivia de Havilland (Arabella Bishop), Lionel Atwill (Col. Bishop), Basil Rathbone (Levasseur), Ross Alexander (Jeremy Pitt), Guy Kibbee (Henry Hagthorpe)
Captain Blood is a classic swashbuckling adventure from 1935, considered amongst the best pirate films ever made.
Errol Flynn plays the title character, a 17th-Century physician who is arrested whilst performing medical duties on a member of the resistance against the monarchy and is subsequently tried for treason. Sold into a life of slavery in the West Indies, he leads a revolution, becoming the captain of a commandeered ship and later turns his attention to fighting against the French.
A masterpiece of its time, featuring Errol Flynn's finest screen performance. Considering its age, it also has some exemplary special effects and model work for the sea battles. It could possibly have done without the romance subplot, but Olivia de Havilland is so good in her supporting role that the film would suffer greatly without her.
A movie from Hollywood's Golden Age that has stood the test of time incredibly well.
8/10