Captain America (Marvel)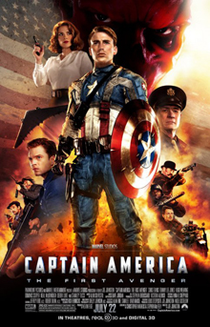 CAPTAIN AMERICA: THE FIRST AVENGER (12)
Paramount/Marvel (Kevin Feige)
Action/Adventure/Science Fiction
W: Christopher Markus & Stephen McFeely [based on characters created by Joe Simon & Jack Kirby]
Ed: Jeffrey Ford & Robert Dalva
Chris Evans (Steve Rogers / Captain America), Hayley Atwell (Agent Peggy Carter), Sebastian Stan (James 'Bucky' Barnes), Hugo Weaving (Johann Schmidt / The Red Skull), Dominic Cooper (Howard Stark), Tommy Lee Jones (Chester Phillips), Stanley Tucci (Abraham Erskine), Samuel L. Jackson (Nick Fury)
Having previous experience with The Rocketeer, Joe Johnston was the right choice to direct this and remains true to the source material by keeping it as a period piece set during WWII.
A weedy but earnest soldier becomes a guinea pig in an experiment to make him a super soldier, with optimum strength, speed and tactical knowledge as America draws deeper into involvement in the Second World War. 
Despite the experiment being successful, any chance of more super soldiers being born are quelled by the villainous Red Skull, who becomes Captain America's greatest nemesis.
Chris Evans delivers a fine performance here in a role which is it's felt he's tailor-made for, a far cry from the arrogant dick he plays in Fantastic Four. Tommy Lee Jones is the best of the supporting pack with some of the best one-liners in the film, while Hayley Atwell makes a perfectly perky love interest.
It may end on a major downer, but with the Avengers Assemble movie on the horizon when this film was released, this provides a brilliantly entertaining origin tale on one of Marvel Comics' biggest characters.
7/10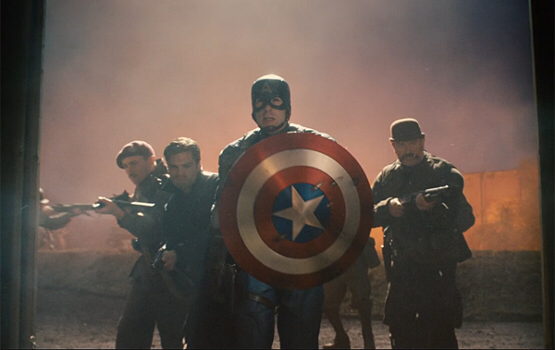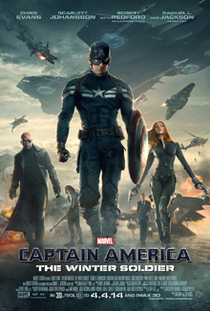 CAPTAIN AMERICA: THE WINTER SOLDIER (12)
D: Anthony Russo & Joe Russo
Disney/Marvel (Kevin Feige)
Action/Adventure/Science Fiction
W: Christopher Markus & Stephen McFeely [based on characters created by Joe Simon & Jack Kirby]
Chris Evans (Steve Rogers / Captain America), Scarlett Johansson (Natasha Romanoff / Black Widow), Samuel L. Jackson (Nick Fury), Anthony Mackie (Sam Wilson / Falcon), Sebastian Stan (Bucky Barnes / The Winter Soldier), Cobie Smulders (Maria Hill), Frank Grillo (Brock Rumlow), Robert Redford (Alexander Pierce)
As entertaining and enjoyable as this film is, it does pale in comparison to the 2011 Captain America movie and the action-packed Avengers Assemble, although, as far as sequels go, it is a decent one.
Following on from the events from it's predecessors, Steve Rogers (aka Captain America) is struggling to settle into modern day society in-between his covert missions for top secret agency S.H.I.E.L.D. 
Following an attempt on SHIELD director Nick Fury's life, the agency becomes corrupted by a new operations director and Captain America goes on the run with Natasha Romanov (aka Black Widow) to solve the mystery. 
As always, the visual effects are flawless and the action set pieces are more than satisfying, but what made the first film so refreshing was that it pitted a lone superhero in a period setting, making him a one-of-a-kind hero against an almost unstoppable army. In this sequel, he's joined by fellow superheroes Black Widow & Falcon and although it remains reasonably faithful to the Marvel franchise, all the films are starting to become somewhat formulaic and incredibly predictable (this is without doubt, the most predictable Marvel film this far).
Still, it could be much, much worse, like the incredibly shoddy 1990 version of Captain America which has to be seen to see how atrocious it is.
6/10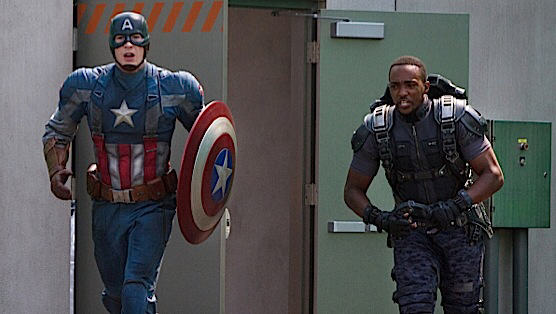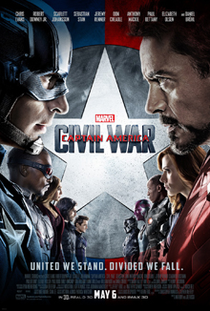 CAPTAIN AMERICA: CIVIL WAR (12)
D: Anthony Russo & Joe Russo
Disney/Marvel (Kevin Feige)
Action/Adventure/Science Fiction
W: Christopher Marcus & Stephen McFeely [based on characters created by Stan Lee & Jack Kirby]
Ed: Jeffrey Ford & Matthew Schmidt
Chris Evans (Steve Rogers / Captain America); Robert Downey, Jr. (Tony Stark / Iron Man); Scarlett Johansson (Natasha Romanov / Black Widow); Sebastian Stan (Bucky Barnes / Winter Soldier); Anthony Mackie (Sam Wilson / Falcon); Elizabeth Olsen (Wanda Maximoff / Scarlet Witch); Don Cheadle (James Rhodes / War Machine); Jeremy Renner (Clint Barton / Hawkeye); Chadwick Boseman (T'Challa / Black Panther); Paul Bettany (Vision); Paul Rudd (Scott Lang / Ant-Man); Daniel Brühl (Helmut Zumo); Emily VanCamp (Sharon Carter); Tom Holland (Peter Parker / Spider-Man)
The Avengers really do assemble for this instalment to the Marvel Cinematic Universe, which could just as easily have been titled Iron Man 4 or the third sequel to The Avengers rather than the Captain America series.
Like the rest of Marvel's movies, it follows on from events in Captain America: The Winter Soldier and The Avengers: Age Of Ultron, so it's of huge importance to have seen the preceding films so you know the characters and events being referenced. 
A rift emerges in the superhero elite due to a government crackdown, brought on by the collateral damage that the avengers have caused from saving the world (in previous movies). Captain America and Iron Man both stand on opposite sides of the fence, but when terrorist attacks occur, attributed to super assassin The Winter Soldier, the former allies prepare to go into battle with each other, all armed with their own superhero chums.
Though the action scenes are hugely impressive, the plot ultimately boils down to a rather unconvincing revenge story. Still, the huge cast, superb action scenes and technically impressive visual effects make it all worth watching.
Much, much better than the hugely disappointing Batman v Superman. The only question is: how can Marvel possibly top the action on display here? Well, Avengers: Infinity War & Endgame may hold the answer to that question.
7/10