Capote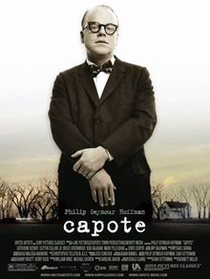 CAPOTE (15)
D: Bennett Miller
Columbia Tristar (Caroline Baron, William Vince & Michael Ohoven)
W: Dan Futterman [based on the book by Gerald Clarke]
Ed: Christopher Tellefsen
Philip Seymour Hoffman (Truman Capote), Catherine Keener (Harper Lee), Clifton Collins, Jr. (Perry Smith), Chris Cooper (Alvin Dewey), Bruce Greenwood (Jack Dunphy), Bob Balaban (William Shawn), Amy Ryan (Mary Dewey)
Phillip Seymour Hoffman delivers an excellent performance as Truman Capote, researching a real-life crime in Kansas as the basis for his famous book "In Cold Blood".
The movie is less a biopic and more a criminal reconstruction which attempts to get inside the mind of two murderers, one of which develops a special friendship with Capote.
The 1967 film version of In Cold Blood tackles the story better in all honesty, but this is still a very good drama with excellent central performances. A solid directorial debut for Bennett Miller, who found himself nominated for Best Director. The film also weighed into the Best Picture race and Hoffman took home the award for Best Actor.
7/10