California Suite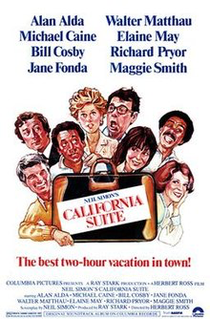 CALIFORNIA SUITE (15)
Michael Caine (Sidney Cochran), Maggie Smith (Diana Barrie), Walter Matthau (Marvin Michaels), Elaine May (Millie Michaels), Alan Alda (Bill Warren), Jane Fonda (Hannah Warren), Bill Cosby (Dr. Willis Panama), Richard Pryor (Dr. Chauncy Gump)
The misadventures of various guests at a Beverly Hills hotel are told with four non-interlinking stories.
Paul Simon adapts his own stage play for screen, but the humour isn't consistent with each of the four stories, leaving an impression that perhaps not all four segments were written by the playwright. 
Enjoyment of each tale varies with taste, with the Michael Caine-Maggie Smith opening bitchfest arguably the best of the quartet, with Bill Cosby & Richard Pryor's slapstick finale left for the end.
It's quite an irony that Maggie Smith won an Oscar for her performance in this comedy, where she portrays an actress who has just returned from the Academy Awards as a loser.
6/10