The Bridges Of Madison County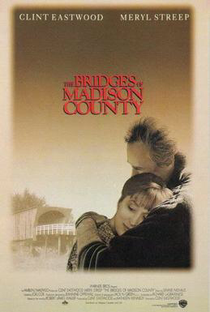 THE BRIDGES OF MADISON COUNTY (15)
D: Clint Eastwood
Warner Bros/Amblin/Malpaso (Clint Eastwood & Kathleen Kennedy)
USA 🇺🇸 1995
134 mins
Drama/Romance
W: Richard LaGravenese [based on the novel by Robert James Waller]
DP: Jack N. Green
Ed: Joel Cox
Mus: Lennie Niehaus
PD: Jeannine Oppewall
Clint Eastwood (Robert Kincaid), Meryl Streep (Francesca Johnson), Annie Corley (Carolyn Johnson), Victor Slezak (Michael Johnson), Jim Haynie (Richard Johnson)
Clint Eastwood stars in and directs this adaptation of Robert James Waller's bestselling novel, presenting a short middle-aged love affair between Francesca Johnson, an Italian-American housewife, and Robert Kincaid, a National Geographic photographer, surrounded by the beautiful vistas and vast plains of rural Iowa.
The chemistry between Clint Eastwood and Meryl Streep makes the movie, which is pretty much Brief Encounter relocated from 1940's London to 1960's America,  though it could do without the wraparound scenes in which Francesca Johnson's grown-up children make a discovery about the affair after her death. 
Eastwood and Streep are excellent, as is the picturesque photography and bittersweet music score. Only the length prevents it from being a better movie, mostly due to the pacing of the needless insert scenes which simply don't move the story along at a steadier pace.
7/10