The Boy in the Striped Pajamas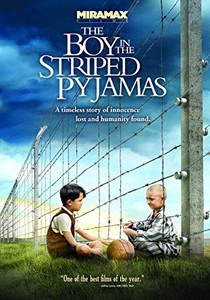 THE BOY IN THE STRIPED PAJAMAS (15)
Miramax/BBC Films (David Heyman)
W: Mark Herman [based on the novel by John Boyne]
Vera Farmiga (Elsa), David Thewlis (Ralf), Asa Butterfield (Bruno), Jack Scanlon (Schmuel), Amber Beattie (Gretel), Sheila Hancock (Natalie), Richard Johnson (Matthias)
Based on a fictional novel by John Boyne, the story focuses on the doomed friendship between the son of a Nazi soldier and a Jewish boy imprisoned at Auschwitz, both children around 8 years old and too young to understand the true nature of the events that surround them.
Very well directed and acted, with close attention to detail and the period.
Although it has a powerful message to convey, it doesn't quite explore or resolve the points it raises. Still, it's a good film to educate those not ready for the horrors of the holocaust which are depicted in Schindler's List or The Pianist (qv), not that this harrowing piece of filmmaking should suffer by comparison. 
8/10