The Birds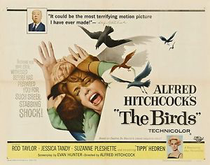 THE BIRDS (15)
D: Alfred Hitchcock
Universal (Alfred Hitchcock)
W: Evan Hunter [based on the story by Daphne Du Maurier]
Rod Taylor (Mitch Brenner), Tippi Hedren (Melanie Daniels), Jessica Tandy (Lydia Brenner), Suzanne Pleshette (Annie Hayworth), Ethel Griffies (Mrs. Bundy), Charles McGraw (Sebastian Sholes), Ruth McDevitt (Mrs. MacGruder)
The original and definitive man v nature horror movie.
In a small town on the Californian Coast, various species of birds begin to indiscriminately attack humans, with no accountable reason why. 
A masterful horror film which once again proved why Alfred Hitchcock was such a notable name in this genre. The final shot is downbeat, almost stating an apocalyptic future where the days of man as the dominant species are numbered.
You'll almost want to go outside and kick some pigeons after watching it.
8/10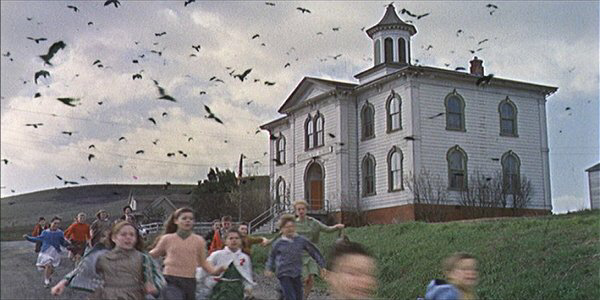 Did You Know:
When audiences left the U.K. premiere at the Odeon, Leicester Square, London, they were greeted by the sound of screeching and flapping birds from loudspeakers hidden in the trees to scare them further.