The Big Sick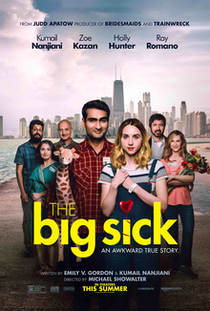 THE BIG SICK(15)
D: Michael Showalter
Amazon/Filmnation (Judd Apatow & Barry Mendel)
USA 🇺🇸 2017
117 mins
Comedy/Drama
W: Kumail Nanjiani & Emily V. Gordon
DP: Brian Burgoyne
Ed: Robert Nassau
Mus: Michael Andrews
Kumail Nanjiani (Kumail Nanjiani), Zoe Kazan (Emily Gardner), Holly Hunter (Beth Gardner), Ray Romano (Terry Gardner), Adeel Akhtar (Naveed)
The Big Sick offers a breakthrough role for Pakistani-born comedian Kumail Nanjiani, who plays himself in this partly autobiographical rom-com, in which he embarks upon a romance with grad student Emily Gardner, where they are met not only with culture clash obstacles, but a mysterious illness which leaves Emily comatose.
Emily's parents travel to the big city to watch over their daughter's state of health and become charmed by Kumail's personality.
The film is practically a 21st century twist on Love Story with more focus on humour, and though the dialogue feels like it was written by Buzzfeed staff, there are many charming moments and some good performances, particularly from Holly Hunter and Ray Romano as Emily's parents.
It's not a surprise that many critics are naming The Big Sick amongst their favourites of 2017.
7/10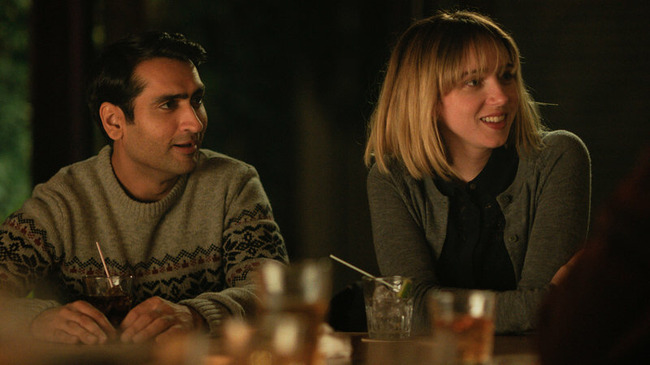 Did You Know:
The screenplay for The Big Sick (2017) was written by Emily V. Gordon and her husband Kumail Nanjiani, and it was loosely based on the real-life courtship between them before their marriage in 2007. According to Nanjiani, the idea to make a script about them was first inspired by the film's eventual co-producer, Judd Apatow, when the two met while appearing in a 2012 episode of the "You Made It Weird" podcast. Developed over the course of three years, the script was called semi-autobiographical because, in addition to the two lead characters modeled after them, many of the events occurring during Gordon and Nanjiani's relationship were noted as being portrayed to an extent in the film.