Bunny Lake is Missing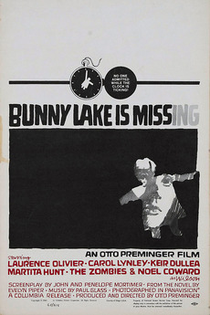 BUNNY LAKE IS MISSING (PG)
Columbia/Wheel (Otto Preminger)
W: John Mortimer & Penelope Mortimer [based on the novel by Evelyn Piper]
Carol Lynley (Ann Lake), Keir Dullea (Steven Lake), Laurence Olivier (Superintendent Newhouse), Martita Hunt (Ada Ford), Anna Massey (Elvira Smollett)
An underrated but uneven British produced mystery, full of style but an unconvincing ending feels out of place with the build-up.
A newly arrived American woman in London attends a school to collect her daughter on her first day but she has disappeared, as has every proof of her ever existing.
For the most part, this mystery feels like a Hitchcock film, where it plays with a psychological aspect of the lead female character's mind. Carol Lynley very much holds her own against Laurence Olivier, who comes close to stealing the whole movie. It's only Keir Dullea's character which feels out of place in an otherwise good mystery-thriller.
6/10