Bullitt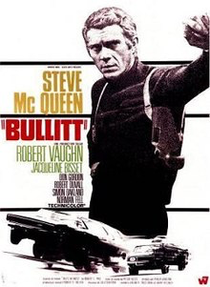 BULLITT (15)
D: Peter Yates
Warner Bros. (Philip D'Antoni)
W: Alan R. Trustman & Harry Kleiner [based on the novel 'Mute Witness' by Robert L. Pike]
DP: William A. Fraker
Ed: Frank P. Keller
Mus: Lalo Schifrin
Steve McQueen (Frank Bullitt), Robert Vaughn (Chalmers), Jacqueline Bisset (Cathy), Don Gordon (Delgetti), Robert Duvall (Weissberg), Simon Oakland (Capt. Bennett), Norman Fell (Baker)
Steve McQueen is the epitome of cool in this slick, stylish and seminal crime thriller.             
He plays Lt. Frank Bullitt, a reputable detective who is given the task of looking after a government witness until a court trial, but when the witness is killed by two gunmen, Bullitt tracks the killers and discovers there's more to the case.
The story is quite unremarkable by today's standards, with similar variations in practically every TV episode of CSI and other such programmes, but considering this was made in 1968, it set an impressive bar for others to follow.
McQueen is fantastic with a rather emotionless & professional character which the script calls for and Peter Yates direction builds up the tension for some classic action set pieces, including THAT car chase.
8/10