Bruce Almighty / Evan Almighty
BRUCE ALMIGHTY (12)
Universal/Spyglass/Shady Acres/Pit Bull (Tom Shadyac, Jim Carrey, James D. Brubaker, Michael Bostick, Steve Koren & Mark O'Keefe)
W: Steve Koren, Mark O'Keefe & Steve Oedekerk
Jim Carrey (Bruce Nolan), Jennifer Aniston (Grace Connelly), Morgan Freeman (God), Steve Carell (Evan Baxter), Philip Baker Hall (Jack Baylor), Catherine Bell (Susan Ortega), Sally Kirkland (Anita Mann)
Jim Carrey returns to the rubberface act which made him originally famous with this comedy with a fantasy twist.
Carrey plays Bruce, a TV news reporter who feels the world is against him, despite the fact he's in a relationship with Jennifer Aniston.
When he's passed over for an anchorman position he loses his rag and ends up getting fired. He blames God for not giving him a break and winds up meeting the man upstairs (quite literally) and Bruce is then permitted to play God to prove whether or not he can do the job any better.
Despite being quite predictable and veering into schmaltz towards the end, this comedy is a lot of fun which doesn't take it's subject matter too seriously. It also sees a welcome return to comedy form for Jim Carrey after a few years appearing in more dramatic roles.
The film is perhaps stolen from him however as Morgan Freeman as God and Steve Carell as a backstabbing news anchorman, the latter of whom was the lead star for a poorly conceived sequel (Evan Almighty).
6/10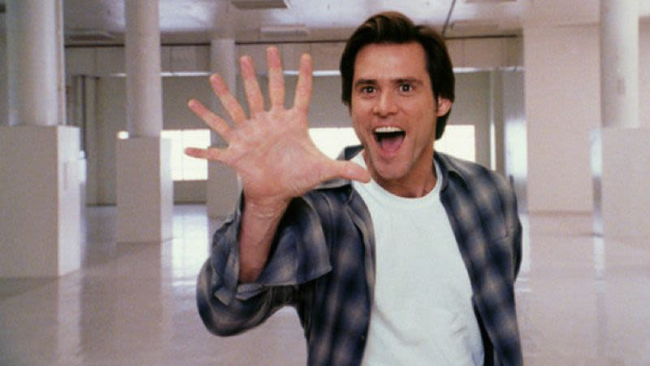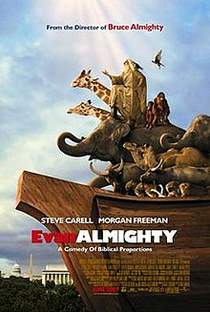 EVAN ALMIGHTY (12)
Universal (Neal H. Moritz, Tom Shadyac, Gary Barber & Roger Birnbaum)
Steve Carell (Evan Baxter), Morgan Freeman (God), Lauren Graham (Joan Baxter), John Goodman (Congressman Chuck Long)
Sequel to Bruce Almighty with a peripheral character taking over the reins from Jim Carrey.
In the original film, Evan Baxter was Bruce's rival at the news station, in this he's a politican who is asked to build an ark by God (Morgan Freeman) in a contemporary update on the story of Noah.         
All the enjoyment from the first film has been sucked out and replaced with dodgy CGI and a disappointly unfunny screenplay.          
Supposedly, this was the most expensive comedy ever produced when it first premiered, one can only assume that Steve Carell, Morgan Freeman & John Goodman picked up hefty paycheques as it's difficult to see where else all that money went.
3/10