Brothers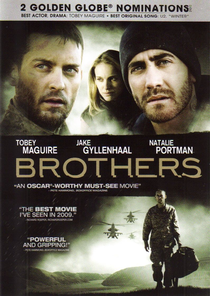 BROTHERS (15)
Lionsgate/Relativity Media (Michael de Luca, Sigursón Sighvaysson & Ryan Kavanaugh)
W: David Benioff [based on the screenplay "Brødre" by Susanne Bier & Anders Thomas Jensen]
Tobey Maguire (Capt. Sam Cahill), Natalie Portman (Grace Cahill), Jake Gyllenhaal (Tommy Cahill), Sam Shepard (Hank Cahill), Mare Winningham (Elsie Cahill)
A trio of great performances carry this war drama. At first, I thought Tobey Maguire was miscast as Sam, a marine captain and family man who leaves his wife Grace (Natalie Portman, excellent) and two young daughters for a tour of duty in Afghanistan.
Presumed killed in action, Grace is comforted by Sam's brother Tommy (Jake Gyllenhaal), an ex-convict and the black sheep of the family who ends up proving his true value to the family unit.
Sam is eventually rescued from his imprisonment and returns to America a changed man.
This could well be Tobey Maguire's finest ever performance and the movie is very well directed by Jim Sheridan. It's based on a Danish original which I may have to give a watch for comparison.
The triangle itself between Maguire, Portman & Gyllenhaal isn't too dissimilar to the one in Pearl Harbor, except it isn't Disneyfied. I'd actually say this movie was very similar to a movie from the same year called The Messenger, which I also thoroughly enjoyed watching.
7/10