Broadcast News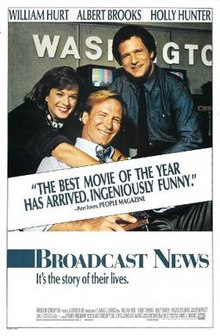 BROADCAST NEWS (15)
20th Century Fox/Gracie Films (James L. Brooks & Penney Finkelman Cox)
William Hurt (Tom Grunick), Holly Hunter (Jane Craig), Albert Brooks(Aaron Altman), Robert Prosky (Ernie Merriman), Lois Chiles (Jennifer Mack), Joan Cusack (Blair Litton), Peter Hackes (Paul Moore), Jack Nicholson (Bill Rorich)
The life and loves of three people working on a television news network, one a suave, handsome and manipulative anchorman, a knowledgable rival reporter with confidence issues & highly strung scruples and an ambitious producer who enamours them both (captivatingly portrayed by Holly Hunter).
A decent comedy from writer/director James L. Brooks which veers into romance towards the end. It does feature a trio of good performances from William Hurt & Albert Brooks, but it's held together mostly through Hunter's impeccable performance.
The total running time could have been trimmed by 30 minutes, but it was still considered one of the best films of 1987 by the Academy Awards, who nominated it for 7 in total.
7/10