Brighton Rock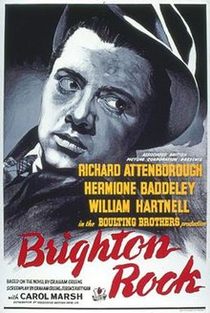 BRIGHTON ROCK (aka YOUNG SCARFACE) (PG)
Associated British/Charter Films (Roy Boulting)
W: Graham Greene & Terence Rattigan [based on the novel by Graham Greene]
Richard Attenborough (Pinkie Brown), Hermione Baddeley (Ida Arnold), William Hartnell (Dallow), Carol Marsh (Rose Brown), Nigel Stock (Cubitt), Wylie Watson (Spicer), Harcourt Williams (Prewitt)
Vintage British cinema featuring a fiendishly good performance from Richard Attenborough as teenage gangster Pinkie Brown, the leader of a notorious racetrack mob & a villain right up on the list with Hannibal Lecter, Anton Chigurh, Patrick Bateman & Death.
Pinkie is a cold soul who cynically romances a waitress and married her so he can use her as an alibi to cover up one of his murders before disposing of her.
It may not hold as much weight now as it did in the forties but the final scene is eternally haunting.
8/10