Bridget Jones (film series)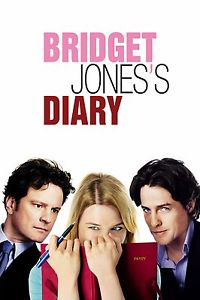 BRIDGET JONES'S DIARY (15)
Universal/Studio Canal/Miramax/Working Title (Tim Bevan, Eric Fellner & Jonathan Cavendish)
W: Helen Fielding, Andrew Davies & Richard Curtis [based on the novel by Helen Fielding]
Renée Zellweger (Bridget Jones), Colin Firth (Mark Darcy), Hugh Grant (Daniel Cleaver), Gemma Jones (Bridget's Mum), Jim Broadbent (Bridget's Dad), Embeth Davidtz (Natasha)
Hugely popular romcom based on an equally popular novel about a neurotic, slightly overweight thirty-something single woman looking for love in all the wrong places.
Renee Zellweger is excellent at the title character and gets some good support from Hugh Grant as her arsehole boss and Colin Firth as her knight in shining armour.
It's film which would mean more to the female lonelyhearts but probably not the type of film that a guy would admit to watching more than once. Perfectly enjoyable fluff.
7/10