Breaking the Waves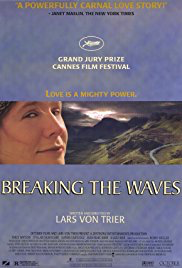 BREAKING THE WAVES (18)
Zentropa/Trust/Liberator/Argus/Northern Lights/La Sept/Swedish Television/Media Investment/Nordic Film & Television Fund/VPRO (Vibeke Windelov & Peter Aalbaek Jensen)
Denmark/Sweden/Norway 🇩🇰 🇸🇪 🇳🇴 1996
W: Lars Von Trier & Peter Asmussen
Emily Watson (Bess), Stellan Skarsgard (Jan), Katrin Cartlidge (Dodo), Jean-Marc Barr (Terry), Adrian Rawlins (Doctor Richardson), Udo Kier (Man on the Train), Jonathan Hackett (Minister), Sandra Voe (Bess' Mother)
In a nutshell; this is an art house Lady Chatterley's Lover update using the Dogme 95 filmmaking style which limit the production to hand-held camera, natural lighting and avant-garde arty-farty direction.
In a remote part of Scotland, a young woman sexually degrades herself to appease her husband, paralyzed in an accident.
Despite an excellent performance from Emily Watson, the film is overlong, quite pretentious and often boring. It was adored by stuffy critics and arthouse audiences but has very little to offer to anyone else. Popcorn munchers may want to avoid this like the plague.
6/10