Brazil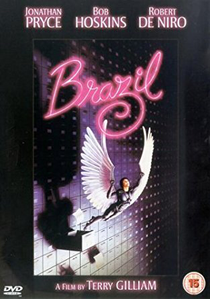 BRAZIL (15)
D: Terry Gilliam
Universal/Embassy (Arnon Milchan)
W: Terry Gilliam, Charles McKeown & Tom Stoppard
PD: Norman Garwood
Jonathan Pryce (Sam Lowry), Robert DeNiro (Tuttle), Katherine Helmond (Ida Lowry), Ian Holm (Kurtzmann), Bob Hoskins (Spoor), Michael Palin (Jack Lint), Ian Richardson (Warrenn), Peter Vaughan (Helpmann), Kim Griest (Jill Layton), Jim Broadbent (Dr. Jaffe)
Terry Gilliam's 1984 which will most certainly divide audiences as a love it/hate it piece of work.
Set in a dystopian future, a civil servant investigates a clerical error and ends up being an enemy of the state.
Similarities will be made with George Orwell's literary classic, but Brazil still has enough originality to hold its own, with some stylish visuals, amazing set designs and cruelly funny satire. 
8/10