Brave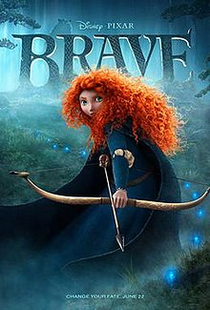 BRAVE (PG)
D: Mark Andrews & Brenda Chapman
Disney/Pixar (Katherine Sarafian)
W: Mark Andrews, Steve Purcell, Brenda Chapman & Irene Mecchi
voices of: Kelly MacDonald (Merida), Billy Connolly (King Fergus), Emma Thompson (Queen Elinor), Julie Walters (The Witch), Robbie Coltrane (Lord Dingwall)
The first Pixar animated film to have a female as the lead character, with Scottish actress Kelly MacDonald providing the voice of a highland princess who is forbidden by her parents to prepare for battle, but she continues to practice archery nevertheless.
Brave, unfortunately, is my least favourite Pixar movie to date, possibly because it just isn't aimed at all at my demographic. 
As always, the animation is top notch, as you'd come to expect, but I just didn't find the storyline as interesting, original or engaging as previous efforts from the animation giants. Perhaps I was expecting more of a send up of Braveheart.     
I'm certain children will still enjoy it, it just wasn't for me.
6/10