Braindead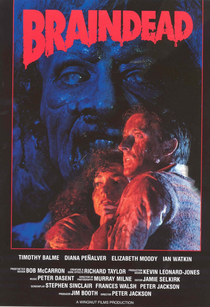 BRAINDEAD (aka DEAD ALIVE) (18)
Polygram/Wingnut (Jim Booth)
W: Stephen Sinclair, Frances Walsh & Peter Jackson
PD: Kenneth Leonard-Jones
Timothy Balme (Lionel Cosgrove), Diana Penalver (Paquita Maria Sanchez), Elizabeth Moody (Vera Cosgrove), Ian Watkin (Les Kalkon), Brenda Kendal (Emma McTavish)
Gross-out horror movie from Peter Jackson's early career about a woman who gets bitten by a rabid monkey and turns into a zombie.
It's all rather unpleasant rather than scary, with a rather disturbing sense of humour.
It's a great deal better than Peter Jackson's debut (Bad Taste) but on this evidence it's almost impossible to understand how he went on to direct The Lord Of The Rings trilogy.
The movie was dubbed a 'video nasty' when it was released in Britain, but fortunately for the filmmakers, it escaped censorship.
6/10