Brain Damage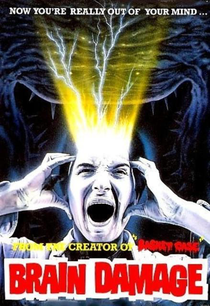 BRAIN DAMAGE (18)
Ed: James Y. Kwei & Frank Henenlotter
Mus: Gus Russo & Clutch Reiser
Rick Hearst (Brian), Jennifer Lowry (Barbara), Theo Barnes (Morris), Lucille Saint-Peter (Martha)
Bizarre horror movie about a man who allows a parasite to give him hallucinatory pleasures in return for helping the creature to feast on brain matter.
The movie is clearly an allegory for drug/alcohol abuse with some rather grizzly death scenes. It's all quite ridiculous and can't be taken at all seriously, but it's still rather good.
Perhaps it's a good idea to remove brain before watching... Just in case.
6/10