Boyz N The Hood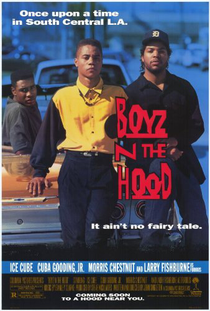 BOYZ 'N THE HOOD (15)
D: John Singleton
Columbia (Steve Nicolaides)
W: John Singleton
Laurence Fishburne (Jason 'Furious' Styles), Cuba Gooding, Jr. (Tre Styles), Ice Cube (Doughboy), Morris Chestnut (Ricky), Tyra Ferrell (Mrs. Baker), Angela Bassett (Reva Styles), Desi Arnez Hines II (Young Tre)
One of the most important and influential movies of the early 1990's.
When his mother can't cope with raising him anymore, Tre Styles is sent to live with his father in South Central Los Angeles, who teaches Tre to be a responsible man amongst the gangland mentality going on around the area, when members perform drive-by shootings, killing their rivals in the name of territorial right.
The movie raises important issues which it cannot resolve, but carries an important message which is often misunderstood. 
Laurence Fishburne and Cuba Gooding, Jr. deliver excellent performances and John Singleton directs the movie in a realistic, visceral style, winning an Oscar nomination for his film debut, both as writer and director.
8/10