Bound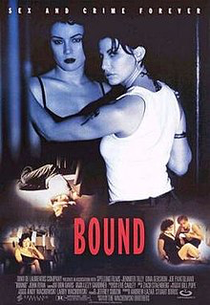 BOUND (18)
D: Andy Wachowski & Larry Wachowski
Guild/DEG/Summit/Newmarket (Andrew Lazar & Stuart Boros)
W: Andy Wachowski & Larry Wachowski
Jennifer Tilly (Violet), Gina Gershon (Corky), Joe Pantoliano (Caesar), John P. Ryan (Mickey Malnato), Christopher Meloni (Johnnie Marzzone), Richard Sarafian (Gino Marzzone), Barry Kivel (Shelly)
Two lesbians betray a gangster, the former lover of one of them, and try to flee town with his millions.
This pre-Matrix thriller from The Wachowski Brothers ranks amongst their best work. Well written & brilliantly acted.  It almost comes off looking like a Coen Brothers movie.
It's a little bit of a shame that the filmmakers became a little too obsessed with the science fiction genre following this promising debut.
7/10