Borat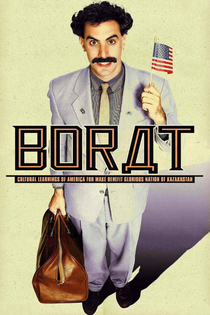 BORAT: CULTURAL LEARNINGS OF AMERICA FOR MAKE BENEFIT GLORIOUS NATION OF KAZAKHSTAN (15)
20th Century Fox (Sacha Baron Cohen & Jay Roach)
W: Sacha Baron Cohen, Peter Baynham, Anthony Hines & Dan Mazer [based on the TV character created by Sacha Baron Cohen]
DP: Anthony Hardwick & Luke Geissbuhler
Ed: Peter Teschner & James Thomas
Sacha Baron Cohen (Borat Sagdiyev), Ken Davitian (Azamat Bagatov), Pamela Anderson (herself)
Based on the character made famous on Channel 4's Da Ali G Show, Borat is a fictional Kazakh TV presenter and journalist who travels America as a somewhat naïve foreigner, interviewing various people on subjects varying from evangelistical Christianism to feminism, etiquette, politics, religion and homophobia, provoking a series of embarrassing reactions from those not in on the joke.
The film has been heavily criticised in Kazakhstan for making fun of it's people, but it made an absolute fortune for writer/producer/star Sacha Baron Cohen. 
It is very funny, but almost xenophobic with its stereotypes and incredibly politically incorrect with its humour. Great comedy always comes at the expense of offending someone though. 
7/10