Bone Tomahawk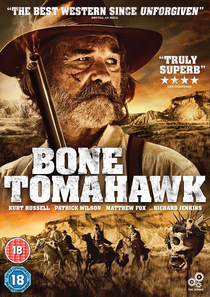 BONE TOMAHAWK (18)
D: S. Craig Zahler
RLJ/Caliber Media (Jack Heller & Dallas Sonnier)
USA 🇺🇸 2015
132 mins
Western/Horror
W: S. Craig Zahler
DP: Benji Bakshi
Ed: Greg D'Auria & Fred Raksin
Mus: Jeff Herriott
Kurt Russell (Sheriff Franklin Hunt), Patrick Wilson (Arthur O'Dwyer), Lili Simmons (Samantha O'Dwyer), Richard Jenkins (Deputy 'Chicory' Kory), Matthew Fox (John Brooder), David Arquette (Purvis)
Incredibly grizzly western starring Kurt Russell as a small town sheriff who assembles a search party after some of his townsfolk have been abducted by a local tribe of vicious Native Americans. 
Debutante writer-director S. Craig Zahler doesn't shy away from violence which borders on sadistic with this western spin on The Most Dangerous Game, in which one-by-one the members of the group are murdered by the clan.
You'll know what you're in for with the opening scene with this one, as a graphic murder takes place in the great frontier, and if you're easy to make feel queasy, it's probably wise not to continue watching.
For everyone else, it's taut, gripping and incredibly well directed, making good use of sound editing to crank up the tension further.
A solid debut, bringing a new brand of style to a rather dormant genre.
7/10