Body Heat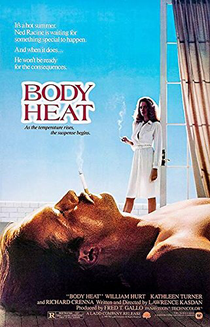 BODY HEAT (18)
Warner Bros/Ladd (Fred T. Gallo)
William Hurt (Ned Racine), Kathleen Turner (Matty Tyler Walker), Richard Crenna (Edmund Walker), Ted Danson (Peter Lowenstein), Mickey Rourke (Teddy Lewis)
The Basic Instinct (qv) of the 1980's, this sexed-up Double Indemnity provided the breakthrough role of Kathleen Turner, who smoulders onto the screen with an excellent debut performance.
Set in Florida during a scorching heatwave, a seedy attorney embarks on a sexually-fuelled affair with a married woman, who seduces and manipulates him into murdering her husband, so she can inherit his wealth.
The film also provided a directorial breakthrough for Lawrence Kasdan, who also penned the script, but it's Kathleen Turner who deserves all the plaudits here, with one of the sexiest screen performances of all time.
Likely to be appreciated most by fans of 1940's film noir.
7/10