Blindspotting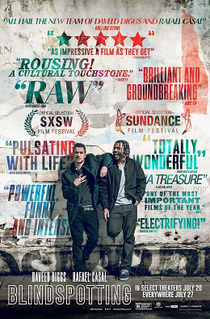 BLINDSPOTTING (15)
D: Carlos Lopez Estrada
Lionsgate/Summit/Codeblack/Snoot (Keith Calder, Jess Calder, Rafael Casal & Daveed Diggs)
USA 🇺🇸 2018
96 mins
Comedy/Drama
W: Daveed Diggs & Rafael Casal
DP: Robby Baumgartner
Ed: Gabriel Fleming
Mus: Michael Yezerski
Daveed Diggs (Collin Hoskins), Rafael Casal (Miles), Janina Gavankar (Val), Jasmine Cephas Jones (Ashley), Ethan Embry (Off. Molinas), Tisha Campbell-Martin (Mama Liz)
Blindspotting is a personal piece of work from co-stars and writers Daveed Diggs & Rafael Casal, set in their native city of Oakwood, CA, which they felt was often misrepresented in the movies, depicted here as a bustling Californian suburb which has gone through a process of gentrification in recent years.
Diggs stars as Collin, an ex-convict trying to keep his nose clean during his last three days on probation after serving time for a violent assault. However, it's a long three days when he's hanging around with his hot-tempered best friend and workmate Miles. Collin also witnesses an illegal shooting by a police officer which causes some internal conflict.
Though the film does have a clever message at its heart about perceptions and prejudice, it does take on a little too much when it juggles topics like socio-economic backgrounds & privileges, racism and other such political subjects.
Still, it's a decently well-written breakthrough for its two main cast members with some realistic dialogue, it just goes a little off the tracks at moments as it struggles to cope with all its moral messages. It's almost a case of throwing as much on the screen as possible, just to see what sticks.
7/10