Blind Date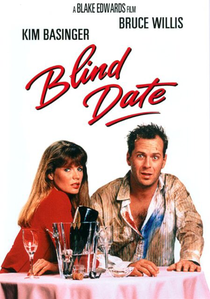 BLIND DATE (15)
W: Dale Launer
Bruce Willis (Walter Davis), Kim Basinger (Nadia Gates), John Larroquette (David Bedford), William Daniels (Judge Harold Bedford), Phil Hartman (Ted Davis)
Very much a film of two halves, the first part a farce about a date from hell, while the last half hour gets increasingly silly as a sham marriage unfolds amongst domestic disputes and rivalries.
Bruce Willis plays a workaholic executive who needs a date for his company function and his shady brother sets him up with his sister-in-law, who can't handle any alcohol and becomes uncontrollable after drinking just the smallest bit of the syrup.
I'm not ashamed to admit that I LOVE this movie... In fact, it has a proud place in my top comedies of all time... Yes, it's Blake Edwards! Yes, it's Bruce Willis pre-Die Hard! Yes, it's Kim Basinger!  Yes, it's slapstick! But it's absolutely hilarious, well-acted, with excellent comic timing, and doesn't outstay its running time, even though the humour in the second half of the movie is a stark contrast to the scenes up to that point.  Bruce & Kim's on-screen chemistry rivals some of the classic partnerships (Bogart/Bacall)... okay I'm slightly exaggerating there... but for a movie made in the mid-80's this film is fantastic!  Phil Hartman & John Larroquette come close to stealing the show as Bruce Willis' selfish brother and Kim Basinger's psychotic ex-boyfriend, respectively.
8/10
Did You Know:
David Bedford's office window looks out onto the unfinished Fox building, which was soon to star as the "Nakatomi Plaza" in Die Hard (1988). The structure still lacks windows and some stone façade on the upper stories and at ground level.