Blade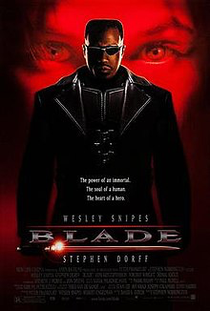 BLADE (18)
New Line/Amen Ra/Imaginary Forces (Peter Frankfurt, Wesley Snipes & Robert Engleman) 
W: David S. Goyer [based on characters created by Marv Wolfman & Gene Colan]
Wesley Snipes (Eric Brooks / Blade), Stephen Dorff (Deacon Frost), Kris Kristofferson (Abraham Whistler), N'Bushe Wright (Dr. Karen Jenson), Donal Logue (Quinn), Udo Kier (Gitano Dragonetti)
Based on a series of graphic novels and amassing a respectable cult following, Wesley Snipes plays the title character, a half-man, half-vampire vigilante who slays fully-fledged vampires to prevent them from taking over the world.
I'm not a huge fan of modern vampire movies which twist the legend into something which is almost undead, but this had a bit of uniqueness to it.  I still don't buy the theory that a vampire can go out in daylight so long as they're wearing a bit of sunblock.
Not a huge fan of Wesley Snipes either and certainly not the visual effects which appear in this movie... excruciatingly bad for the late 1990's.
5/10