Birdman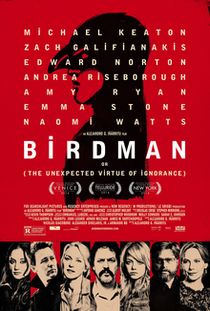 BIRDMAN (or THE UNEXPECTED VIRTUE OF IGNORANCE) (15)
D: Alejandro Gonzalez Iñarritu 
Fox Searchlight/Regency/New Regency/M Productions/Le Grisbi/TSG (Alejandro Gonzalez Iñarritu, John Lesher, Arnon Milchan & James W. Skotchdopole)
W: Alejandro Gonzalez Iñarritu, Nicolas Giacobone, Alexander Dinelaris, Jr. & Armando Bo
DP: Emmanuel Lubezki
Ed: Stephen Mirrione & Douglas Crise
Michael Keaton (Riggan Thomson), Zach Galifianakis (Jake), Edward Norton (Mike Shiner), Andrea Riseborough (Laura Aulburn), Amy Ryan (Sylvia Thomson), Emma Stone (Sam Thomson), Naomi Watts (Lesley Truman) 
2014's Oscar winner for Best Picture will come as an enigma to many who watch it. Was this really the best film of 2014? Well, yes and no. Of course, it's always subjective.
Birdman walks the line between art and entertainment, fame and celebrity, sanity and madness. 
A washed-up actor once a household name for playing a big screen superhero, Riggan Thompson's new project is starring in, directing and adapting a broadway play based on one of his favourite novels. A pet project which is costing him in ways which cannot be counted in currency and met with resistance by on-and-off stage arguments with a difficult co-star, a spiteful theatre critic, his own family members and even his own alter ego, a constant reminder that he had it all as the big Hollywood star of a comic book franchise. Confused yet? The story, which draws comparisons with Shakespeare's Macbeth, is as labyrinthine as the set on which it takes place, but what does make Birdman a marvel to behold is the cinematography, lighting, editing and visual effects which make the movie feel as though it were all filmed in one take, with barely any visible cuts and camera movements which flow around the set without skipping a beat (even passing two actors stood in front of a mirror without casting a reflection).
Everything about the film is cinematic genius, but simply won't be appreciated by everyone. Like most things comedy, you have to be in on the joke to get it.
8/10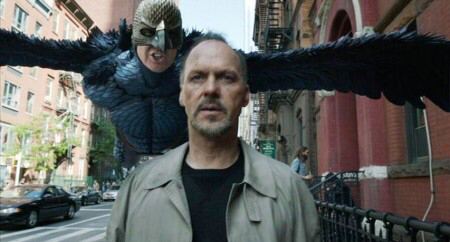 Did You Know:
The meticulous timing for the scenes meant that takes were cancelled because of the slightest mishaps. Emma Stone, in an interview with Jimmy Fallon, recalled how a six-minute take of the scene, where Riggan first meets Mike was ruined after she walked around a corner too quickly. Because of this, the number of takes for a given scene was high, usually twenty for the shorter scenes, the takes running smoothly, around the fifteenth. Camera operator Chris Haarhoff described it as "a type of dance where everyone would hopefully try to peak all at the same moment."