Bill & Ted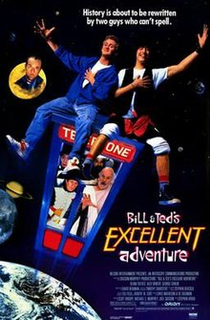 BILL & TED'S EXCELLENT ADVENTURE (PG)
Castle Premier/Interscope (Scott Kroopf, Michael S. Murphy & Joel Soisson)
W: Ed Solomon & Chris Matheson
Ed: Larry Bock & Patrick Rand
PD: Roy Forge Smith & Lynda Paradise
Alex Winter (Bill S. Preston), Keanu Reeves (Ted "Theodore" Logan), Robert V. Barron (Abraham Lincoln), Terry Camilleri (Napoleon), Al Leong (Genghis Khan), Rod Loomis (Sigmund Freud), Dan Shor (Billy the Kid), Tony Steedman (Socrates), Jane Wiedlin (Joan of Arc), George Carlin (Rufus)         
With the aid of a time-travelling phone booth, two high school slackers abduct historical figures like Joan Of Arc, Abraham Lincoln & Socrates and bring them back to modern day California so they can pass their history essay and not flunk their exams, success of which keeps them together for the sake of their band, Wyld Stallyns, whose music eventually changes the world for the better.
Bill & Ted is virtually a one-joke movie about idiot time travellers which nevertheless amassed a cult audience amongst the MTV crowd of the late 80's and early 90's, when the surfer-dude / stoner character was all the rage, Bill & Ted are a little more innocent than that, and the double act between the two leads works particularly well.
It's all very stupid, but fun unpretentious nonsense never hurt anybody. Keanu Reeves went on to become an A-list star following the success of the film, but whatever happened to Alex Winter?
6/10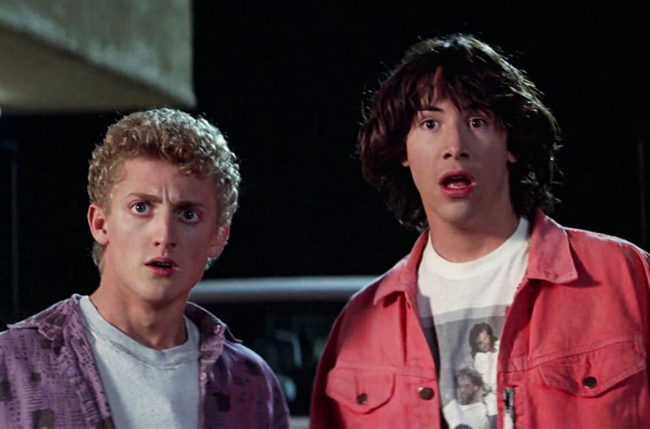 Did You Know:
Originally the plot was to have Bill and Ted visit, and therefore accidentally cause, all of history's greatest tragedies (the sinking of the Titanic, the crash of the Hindenburg, the Black Plague, etc.)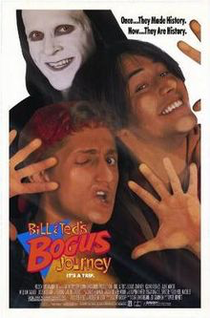 BILL & TED'S BOGUS JOURNEY (PG)
Columbia Tristar/Orion/Nelson (Scott Kroopf) 
W: Ed Solomon & Chris Matheson
Alex Winter (Bill S. Preston / Evil Bill / Granny Preston), Keanu Reeves (Ted 'Theodore' Logan / Evil Ted), William Sadler (Death), Joss Ackland (Chuck De Nomolos), George Carlin (Rufus)
The two Californian boneheads from the first movie return in a sequel which sees them killed by two futuristic robot lookalikes. 
In the afterlife, the real Bill & Ted must challenge the Grim Reaper to a contest in order to reclaim their souls so they can return to their west coast town of San Dimas to ensure that their rock band, Wyld Stallyns wins the Battle Of The Bands contest and their music creates a utopic future society.
The plot is far more simple than it sounds and the jokes pretty much revolve around the way the two main characters talk (i.e. like idiots) and "surfer dude humour".
Despite gathering a rather large cult following it has dated incredibly badly, more so than the original film, which still holds up as goofy 80's cheese.
6/10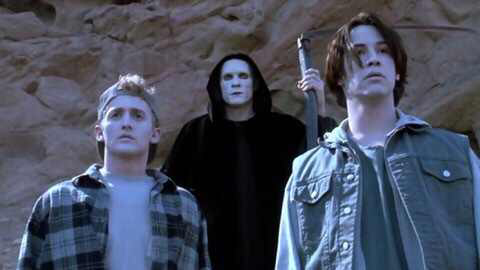 Did You Know:
The evil character from the future is called "De Nomolos", which is Writer and Producer Ed Solomon's name spelled backwards.