Big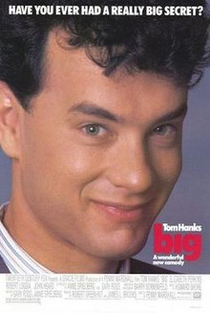 BIG (PG)
20th Century Fox/Gracie Films (James L. Brooks & Robert Greenhut)
W: Gary Ross & Anne Spielberg
Mus: Howard Shore
Tom Hanks (Josh Baskin), Elizabeth Perkins (Susan Lawrence), Robert Loggia (MacMillan), John Heard (Paul), Jared Rushton (Billy Kopeche), David Moscow (Young Josh), Jon Lovitz (Scotty), Mercedes Ruehl (Mrs. Baskin)
Undoubtedly Tom Hanks finest comedy performance with a brilliantly witty script with some funny and bittersweet moments.         
Young Josh Baskin makes a wish on a mysterious fortune teller machine at a fair that he wishes he were big... The next morning he wakes to discover he's a thirteen-year-old in an adult body. Chased out of the family home by his mother who doesn't recognise him, he runs off to New York City and gets a job in a toy company, where he rises to an executive position because he still thinks like a child... But he still misses his family, his friends and ultimately, his childhood. 
Big is an absolutely wonderful film about wanting to grow up, but more importantly the things we take for granted in our younger years and can be appreciate for different reasons regardless of the viewer's age.
Solid entertainment for kids, but also a brilliant and nostalgic film for adults to enjoy.  
A highlight of 1980's cinema which has dated particularly well considering it's over thirty years old.
8/10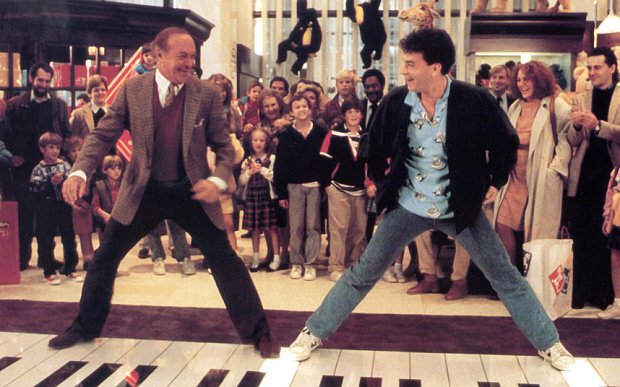 Did You Know:
The 'Walking Piano', first spotted by the filmmakers at F.A.O. Schwarz toy store, was 6.5 feet long and played only one octave. So the piano was too small to play the notes director Penny Marshall needed (the script was written that Tom Hanks and Robert Loggia would play 'Heart and Soul' on the piano). So she contacted Remo Saraceni, the creator of the 'Walking Piano', and said she needed one built large enough to accommodate the dancing feet of two grown men. Saraceni obliged, making a sixteen-foot long, full three-octave piano wide enough for the scene.

On the day they filmed the famous keyboard scene at F.A.O. Schwarz, Tom Hanks and Robert Loggia noticed that doubles were on hand just in case the two could not do the dance moves correctly. It became their goal to do the entire keyboard number without the aid of the doubles. They succeeded.