Bicentennial Man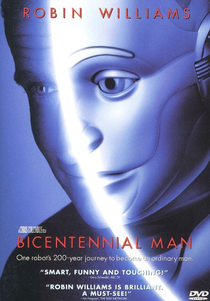 BICENTENNIAL MAN (12)
Columbia/Touchstone (Wolfgang Petersen, Gail Katz, Neal Miller, Lawrence Mark, Chris Columbus & Mark Radcliffe)
W: Nicholas Kazan [based on the novel 'The Positronic Man' by Isaac Asimov]
Robin Williams (Andrew), Sam Neill (Richard 'Sir' Martin), Embeth Davidtz (Amanda 'Little Miss' Martin / Portia Charney), Wendy Crewson (Rachel Martin), Oliver Platt (Rupert Burns), Stephen Root (Dennis Mansky)
If ever a movie needed a better screenplay... Robin Williams plays a robot servant who starts telling knock knocks jokes, leaves the family stead, wanders around the earth for 200 years wanting to become human and then shags Embeth Davidtz. Classy.
Celine Dion sings a saccharine song over the end credits about how we should all love one another, including robots. Something like that- I lost interest by then. 
I want to blame Chris Columbus for how terrible this is, but perhaps the movie was tailored for the comedy act of Robin Williams and his shtick.  It's a genuine shame, because a brilliant concept was hampered by an absolutely awful script. The last 20 minutes is dripping in so much saccharine that it could actually induce vomiting.
5/10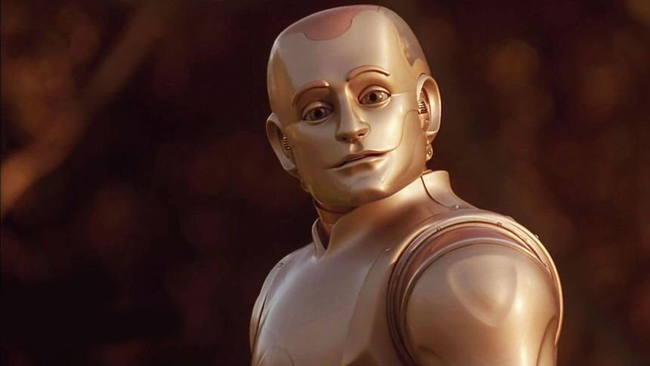 Did You Know:
The aria that Andrew is listening to when he first uses the record player is from Dvorak's opera "Rusalka." The opera is concerned with the fairy-tale story of a water nymph who wants to become mortal for love.