Beverly Hills Cop (trilogy)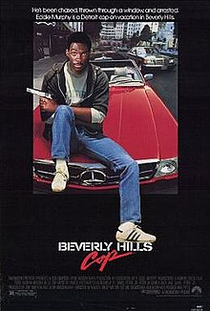 BEVERLY HILLS COP (15)
Paramount (Jerry Bruckheimer & Don Simpson)
W: Daniel Petrie, Jr. & Danilo Bach
Ed: Billy Weber & Arthur O. Confirm
Mus: Harold Faltermeyer
Eddie Murphy (Axel Foley), Judge Reinhold (Detective Billy Rosewood), John Ashton (Sgt. Taggart), Lisa Eilbacher (Jenny Summers), Ronny Cox (Lt. Bogomil), Steven Berkoff (Victor Maitland), James Russo (Mikey Tandino)
Arguably Eddie Murphy's best and funniest screen performance as Detroit cop Axel Foley.  
Following the murder of one of his friends, Axel travels to Beverly Hills to investigate, using unconventional methods more suited to a confidence trickster rather than a man of the law, which get him on the wrong side of the strictly by-the-book local authorities.  
Despite the film being a rather run-of-the-mill fish out of water story, it's given unique freshness from Eddie Murphy's exuberant performance and an incredibly funny screenplay. Harold Faltermeyer's iconic music also became something of legend, becoming a hit in 1984 plus remixes later on which propelled it up the music chart. (Damn you Crazy Frog!)
8/10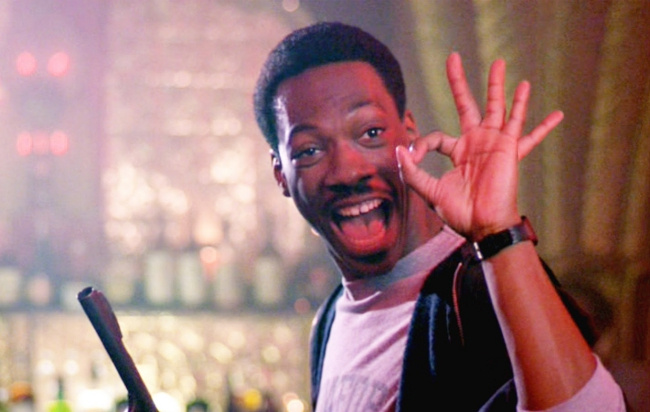 Did You Know:
Eddie Murphy, John Ashton, and Judge Reinhold improvised most of their comic lines. Literally hundreds of takes were ruined by cast members, actors, or the director laughing during shooting. During the "super-cops" monologue, which was brought on by Eddie Murphy drinking too much coffee, Ashton is pinching his face hard and looking down in apparent frustration. He is actually laughing. Reinhold put his hand in his pocket and pinched his thigh really hard, trying to prevent himself from laughing.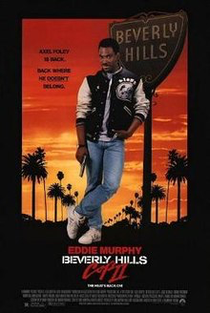 BEVERLY HILLS COP II (15)
Paramount (Jerry Bruckheimer & Don Simpson)
W: Larry Ferguson, Warren Skaaren, David Giler & Dennis Klein [based on characters created by Daniel Petrie, Jr. & Danilo Bach]
Ed: Billy Weber, Chris Lebenzon & Michael Tronick
Eddie Murphy (Axel Foley), Judge Reinhold (Billy Rosewood), Jürgen Prochnow (Maxwell Dent), John Ashton (John Taggart), Ronny Cox (Andrew Bogomil), Allen Garfield (Harold Lutz), Brigette Nielsen (Karla Fry), Dean Stockwell (Chip Cain)
Axel Foley is back in California! This time he helps fellow detectives Rosewood & Taggart to solve a series of crimes dubbed 'The Alphabet Robberies', which have in turn made the Beverly Hills chief of police a victim of a shooting.
Despite not being anywhere as good as the first film, it's still good fun, has a few moments of laughter and has a pretty decent soundtrack.
6/10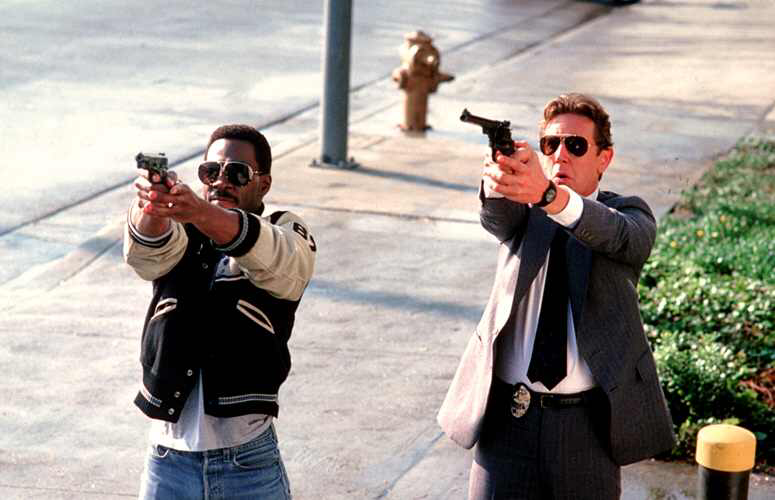 Did You Know:
The cement truck that Billy Rosewood drives in an action scene has a sticker saying DS/JB Construction Company. DS and JB stand for the film's producers, Don Simpson and Jerry Bruckheimer.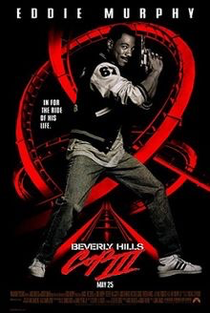 BEVERLY HILLS COP III (15)
Paramount (Mace Neufeld & Robert Rehme)
W: Steven E. de Souza [based on characters created by Daniel Petrie, Jr. & Danilo Bach]
Eddie Murphy (Axel Foley), Judge Reinhold (Billy Rosewood), Hector Elizondo (Jon Flint), Timothy Carhart (Ellis DeWald), Stephen McHattie (Steve Fulbright), Theresa Randle (Janice Perkins), John Saxon (Orrin Sanderson), Alan Young (Uncle Dave Thornton), Bronson Pinchot (Serge)
The third of the Beverly Hills Cop movies seems to forget what franchise it's from and decides to follow the formula from Die Hard instead. Makes sense since Steven E. de Souza also wrote the script to that movie too.
Axel Foley investigates a counterfeiting operation at a Disneyland style theme park, setting up a finale which takes place amongst roller coasters and merry-go-rounds.
John Ashton & Ronny Cox have the sense to stay away from this one, but Bronson Pinchot reprises his role as Serge from the first movie, although in this one he's an arms dealer rather than a campy art dealer. Only the screenwriter knows why. 
4/10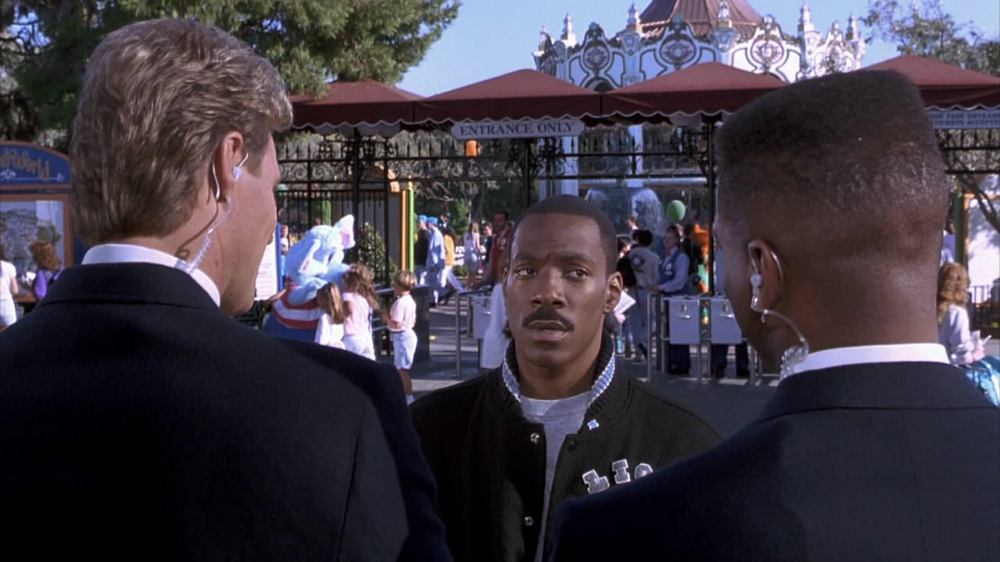 Did You Know:
In a 2005 interview, director John Landis claimed that Eddie Murphy worked against the comedy of the film by deliberately not being funny as he wanted to be taken seriously as an action star. Landis said that the film "was a very strange experience" and Murphy was very difficult to work with.