Ben-Hur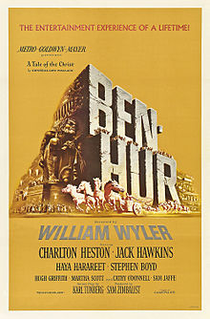 BEN-HUR (PG)
D: William Wyler
W: Karl Tunberg [based on the novel "A Tale of Christ" by General Lew Wallace] 
DP: Robert L. Surtees
Ed: Ralph E. Winters & John D. Dunning
Mus: Miklos Rozsa
PD: William A. Horning & Edward Carfango
Cos: Elizabeth Haffenden
Charlton Heston (Judah Ben-Hur), Haya Harareet (Esther), Jack Hawkins (Quintus Arrius), Stephen Boyd (Messala), Hugh Griffith (Sheik Ilderim), Martha Scott (Miriam), Sam Jaffe (Simonides)
At the time of Jesus Christ, an enslaved Jew battles against the Roman Empire and witnesses the crucifixion.
At the time of production, this was one of the most expensive films ever produced.
This three-hour plus historical epic has many good reasons to watch it, particularly the chariot race scene, but due to its exorbitant length, probably wouldn't be one to watch over and over again, despite it being on TV perennially over Easter time and other religious holidays.
Aspects may have dated over time, but for 1959 it was a masterclass of technical achievement which was recognised at the Academy Awards, where the 
film won an unprecedented 11 Oscars, a record which was held for 38 years (Titanic & Lord Of The Rings: The Return Of The King also hold this record haul)
8/10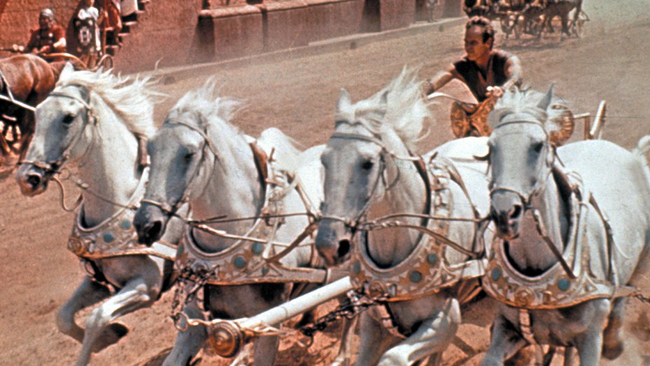 Did You Know:
The chariot race required 15,000 extras on a set constructed on 18 acres of backlot at Cinecitta Studios outside Rome. Tour buses visited the set every hour. Eighteen chariots were built, with half being used for practice. The race took five weeks to film.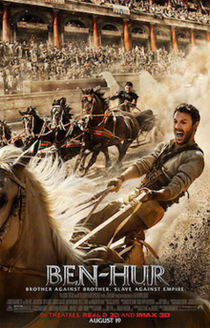 BEN-HUR (12)
D: Timur Bekmambetov
Paramount/MGM/Lightworkers (Sean Daniel, Joni Levin & Duncan Henderson)
USA 🇺🇸 2016
125 mins 
Historical/Drama/Adventure
W: Keith Clarke & John Ridley [based on the novel by Lew Wallace]
DP: Oliver Wood
Ed: Dody Dorn & Richard Francis-Bruce
Mus: Marco Beltrami
Jack Huston (Judah Ben-Hur), Morgan Freeman (Sheik Ilderim), Toby Kebbell (Messala), Nazanin Boniadi (Esther), Rodrigo Santoro (Jesus)
Why remake a classic? Well, aside from the obvious financial gains it has to be noted that Lew Wallace's novel was a successful stage production, as well as finding life as two silent films before the epic 1959 production made its bow and swept the Oscars. It also has to be said that this "re-imagination" draws just as much inspiration from Gladiator, Spartacus and other films cut from the same cloth, but the overall result is still a complete disappointment.
The bare bones of the story remain intact, a Jewish prince becomes an enemy of the Roman Empire and is sold into slavery, crosses paths with Jesus on his journey for revenge and the whole film is geared towards the chariot race finale which was the iconic scene of the 1959 film.
Every aspect of the production pales in comparison to the Charlton Heston version, and though lots of money has been thrown at it, the acting is not much above pantomime standard and the CGI fails to impress. A Twilight love story is also unwelcomely crammed  in just to tick the box for a teenage girl demographic.
A truly pointless exercise. If you want to watch Ben-Hur, watch the 1959 version. Embrace the classics rather than feed the greed of big Hollywood studios. They don't care about art anymore, they just want your money.
3/10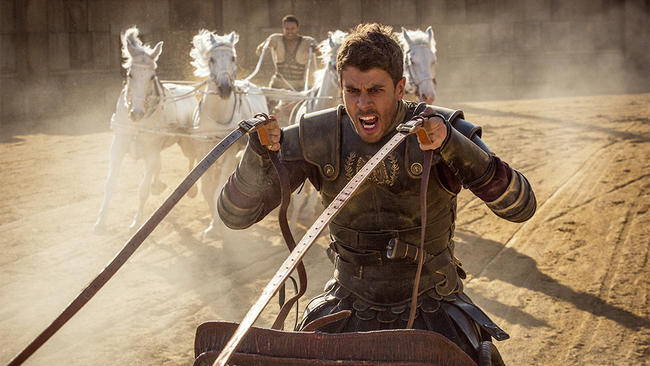 Did You Know:
Director Timur Bekmambetov insisted that the chariot circus be built for real, and be realized with as little computer graphics imagery as possible. He felt it was absolutely necessary, to make the chariot race look and feel realistic.