Belle de Jour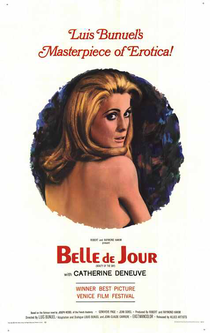 BELLE DE JOUR (15)
D: Luis Bunuel 
Paris Film (Robert Hakim & Raymond Hakim)
W: Luis Bunuel & Jean-Claude Carriere [based on the novel by Joseph Kessel]
DP: Sacha Vierny
Ed: Louisette Hautecoeur & Walter Spoht
Cos: Helene Noury & Yves Saint Laurent
Catherine Deneuve (Séverine Serizy / Belle de Jour), Jean Sorel (Pierre Serizy), Michel Piccoli (Henri Husson), Genevieve Page (Madame Anais), Pierre Clementi (Marcel), Francisco Rabal (Hippolyte)
Catherine Deneuve stars as a sexually-repressed housewife who begins working as a prostitute, but only in the afternoons, earning her the name Belle de Jour.
The film is typically Luis Bunuel, mixing scenes of fantasy into the narrative with seamless effect. The cinematography is exquisite, as are some of the costumes which the beautiful Catherine Deneuve wears. 
Though the subject matter was hugely controversial for the 1960's, it's rather tame in comparison now, though it has inspired many other works. 
The final scene, like the film itself, is an acquired taste.
8/10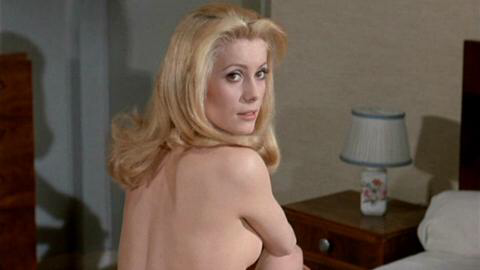 Did You Know:
It has been said that director Luis Buñuel has admitted that he himself doesn't know what the end of the movie means.