Before Sunrise / Sunset / Midnight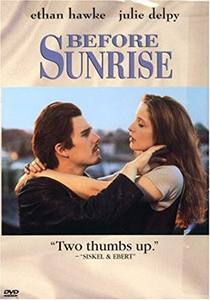 BEFORE SUNRISE (15)
Rank/Castle Rock/Detour/Filmhaus (Anne Walker-McBay)
USA/Austria/Switzerland 🇺🇸 🇦🇹 🇨🇭 1995
W: Richard Linklater & Kim Krizan
Ethan Hawke (Jesse), Julie Delpy (Seline)
The film is an incredibly simplistic boy-meets-girl story but is a perfect example of on-screen chemistry.
Ethan Hawke plays Jesse, an American travelling through Europe, he crosses paths with Celine (Julie Delpy) on a train and after spending awhile talking, decide to spend the night together in Vienna before he catches a flight back to America and she returns to her native Paris.
The movie is practically all-dialogue, but what makes it work is the realistic relationship that develops between the two characters. Unfortunately, the mystery of whether or not the two meet again has been answered by the fact there are now two sequels to this movie. Nevertheless, I think this is one of the great romance movies of the 1990's (maybe even the best).
8/10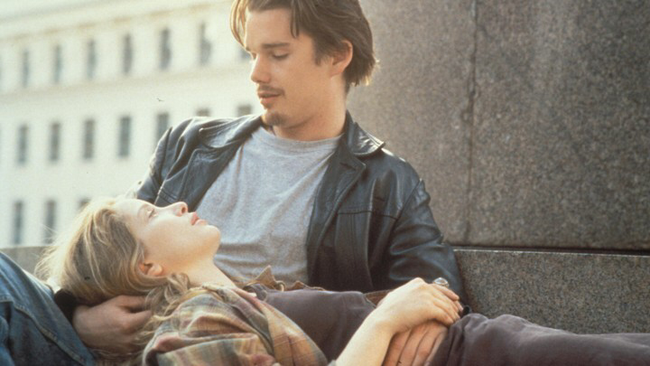 Did You Know:
The idea for the movie came from a night Richard Linklater spent walking around Philadelphia with Amy, a woman he met in 1989. Contrary to the movie, they stayed in touch for a while, until contact was lost. Linklater never heard from her again, not even when he became a director and Before Sunrise was released. It was not until 2010 that he found out that Amy had died in a traffic accident in 1994.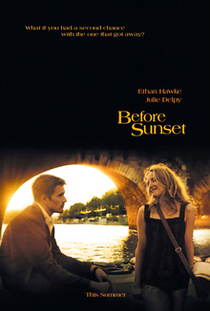 BEFORE SUNSET (15)
Warner Independent/Castle Rock (Anne Walker-McBay & Richard Linklater)
W: Richard Linklater, Ethan Hawke, Julie Delpy & Kim Krizan [based on characters created by Richard Linklater & Kim Krizan]
Ethan Hawke (Jesse), Julie Delpy (Seline)
Nine years after the events in Before Sunrise, Jesse & Celine meet again, this time in Paris, and rekindle their romance after spending the evening together in Vienna in the first movie.  Both are nearly a decade older and they've both created an art form as a tribute to their encounter in Vienna, Jesse has authored a book whilst Celine has written a song. 
At just over 70 minutes, this is more a companion piece to the first film, but can stand on it's own merits due to the realistic dialogue and electric chemistry between the two characters.  
I personally think Before Sunrise is the best romance film of the 90's and this is a very fitting follow-up.
Before Midnight (qv) followed in 2013, which will make more sense of the abrupt ending.
8/10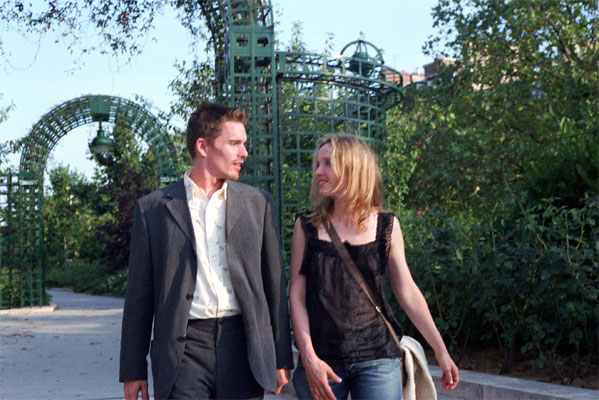 Did You Know:
Since the film takes place during the mid-late afternoon, it was the only time of day director Richard Linklater would shoot the scenes in the film. He felt it added to the hyper reality of the film, and often relied on the actors to get perfect takes at the right time.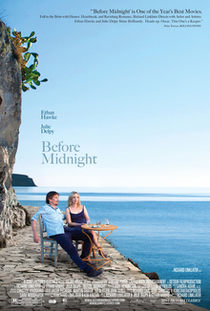 BEFORE MIDNIGHT (15)
Sony Pictures Classics/Castle Rock (Richard Linklater, Christos V. Konstantocopolous & Sara Woodhatch) 
W: Richard Linklater, Ethan Hawke & Julie Delpy [based on characters created by Richard Linklater & Kim Krizan]
Ethan Hawke (Jesse), Julie Delpy (Seline)
A perfect third part to a very enjoyable trilogy of films, starting in 1995 with Before Sunrise and following on in 2004 with Before Sunset.
This third movie brings the whole love story between Jesse and Celine into context.
The first movie was about love as a fantasy, focusing mostly on spontaneous passion.
The second movie was about idealistic love, with the couple having a second chance at their relationship.
Before Midnight is about realistic love. Jesse and Celine are now in their 40's, vacationing in Greece with their twin girls whilst Jesse's thoughts are mostly occupied on spending more time with his son and a custody battle with his ex-wife. 
Like the previous two films, the film is very conversation focused, with a number of one-set scenes lasting 10-20 minutes each, all peppered with realistic dialogue and characters, culminating in Jesse and Celine having a rare break from their girls for an evening of romance which is on the verge of ruin by the notion that their fairytale love story is in peril. 
Both Ethan Hawke and Julie Delpy are fantastic, just as they were in the previous two films and you can't help but feel for both characters standpoints on a crisis which has the potential to tear them apart.
All in all, this is a brilliant trilogy of a love affair which spans three decades.
8/10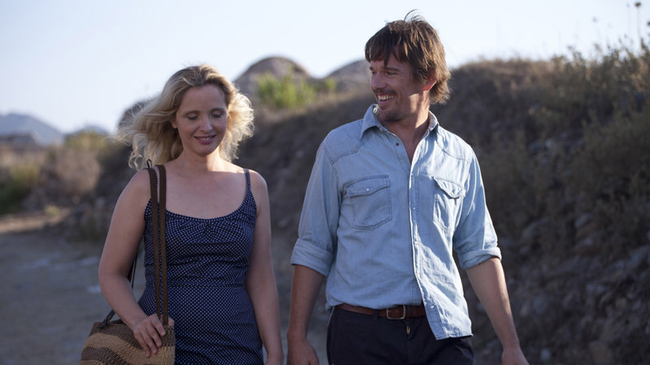 Did You Know:
Ethan Hawke described Before Sunrise (1995) as a film about what might be, Before Sunset (2004) as a film about what could or should be, and Before Midnight (2013) as a film about what is.