Battle Royale
BATTLE ROYALE (18)
Metro Tartan/Toei (Masao Sato, Masumi Okada, Teruo Kamaya & Tetsu Kayama)
Japan 🇯🇵 2000 (released 2001)
Action/Adventure/Science Fiction/Thriller
W: Kenta Fukasaku [based on the novel by Koshun Takami]
Tatsuya Fujiwara (Shuya Nanahara), Aki Maeda (Noriko Nakagawa), Tato Yamamoto (Shogo Kawada), Masanobu Ando (Kazuo Kirayama), Kou Shibasaki (Mitsuko Souma), Chiaki Kuriyama (Takako Shigusa), Takeshi Kitano (Kitano)
In the not so distant future, following violent events in schools, teenagers are chosen by lottery to participate in a deadly game where they are stranded on a remote island and given three days to kill one another until there is only one survivor.
A novel approach on a theme which has been adapted since the days of Agatha Christie. There's a lot of satire in this to counterbalance the violence and unpleasantries.
Unfortunately, this may be one of the movies which will be forgotten about since the emergence and success of the similar themed The Hunger Games and its sequels.
7/10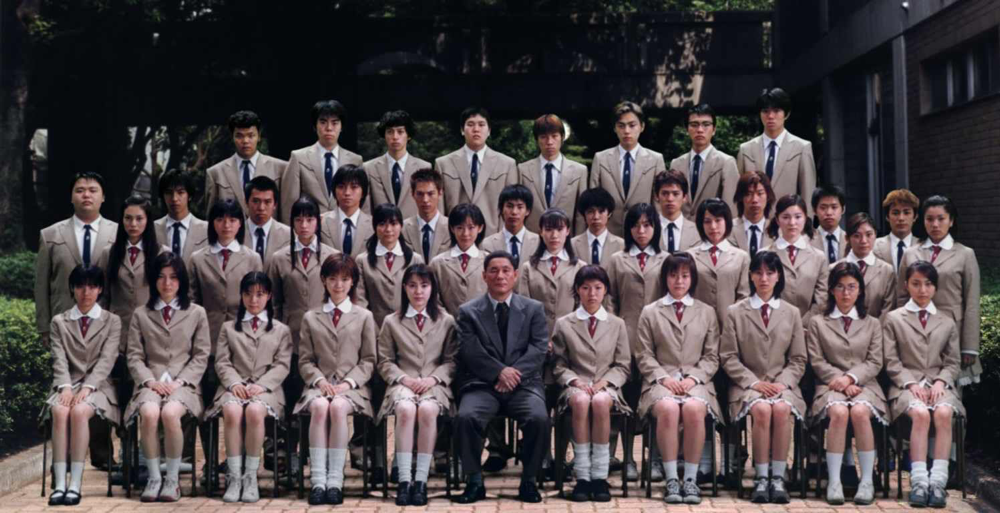 Did You Know:
Many members of the Japanese Parliament tried to get the novel banned, but to no avail. When the film was released, they attempted to ban it also. Both efforts resulted in the novel and film becoming even more successful as people bought the book and went to the movie to see what the fuss was all about.