Batman (1989-1997)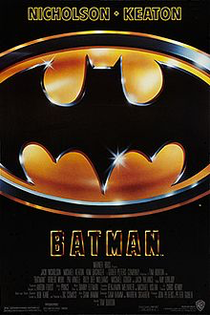 BATMAN (12)
Warner Bros. (Jon Peters & Peter Guber)
W: Sam Hamm & Warren Skaaren [based on characters created by Bob Kane]
Mus: Danny Elfman
PD: Anton Furst
Michael Keaton (Bruce Wayne/Batman), Jack Nicholson (Jack Napier/Joker), Kim Basinger (Vicki Vale), Robert Wuhl (Alexander Knox), Pat Hingle (Commissioner Gordon), Billy Dee Williams (Harvey Dent), Michael Gough (Alfred), Jack Palance (Carl Grissom)
Tim Burton's vision of Batman is a far cry from the campy TV show of the 1960's with Adam West prancing around in tights.
This revitalisation of the comic book movie targeted a more adult audience, whilst still being faithful to the core fans of the comic book franchise.
Gotham City is a dark, stylish, crime-ridden Metropolis of old, Art Deco style buildings. The majority of the police force are corrupt, taking back handers from the criminal underworld so it is up to Batman to watch over the city and deliver his own brand of vigilante justice.
One of the most feared of the Gotham City gangsters is Jack Napier, but after an involvement in an accident at a chemical plant, becomes the Joker. A maniacal clown like character with a sick sense of humour, played with hilarious fun by Jack Nicholson.
The Bruce Wayne/Batman character has had a number of actors play him over time and Michael Keaton never really got the plaudits he deserved in this and its sequel (Batman Returns). He's perfect for the part. Just the right blend of suave and mysterious for Bruce Wayne and just the right blend of dark and mysterious for the dark knight.
A huge hit in 1989 and still considered one of the best comic book adaptations.
8/10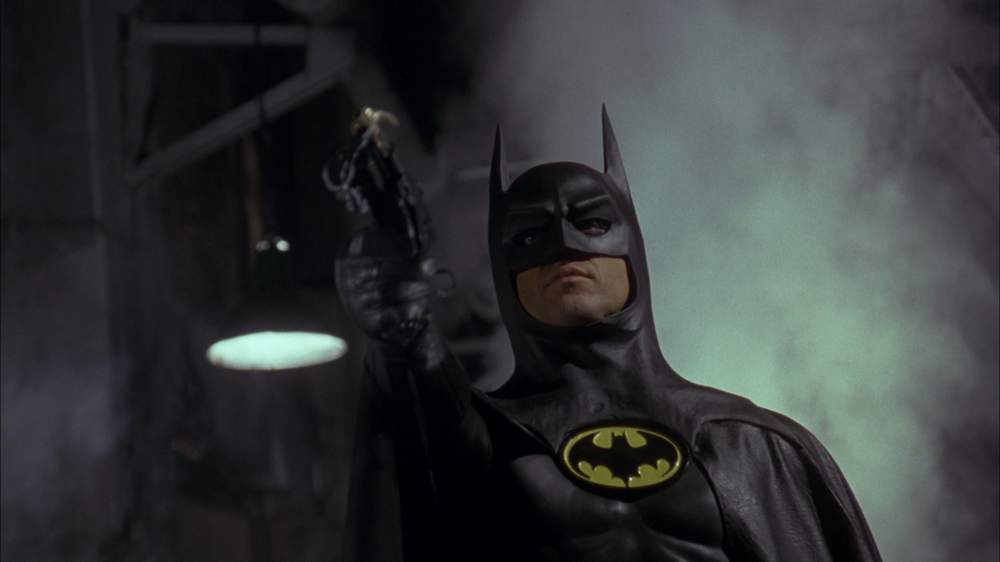 Did You Know:
Robin Williams was offered the role of The Joker when Jack Nicholson hesitated. He had even accepted the role, when producers approached Nicholson again and told him Williams would take the part if he didn't. Nicholson took the role, and Williams was released. Williams resented being used as bait, and not only refused to play The Riddler in Batman Forever but also refused to be involved in any Warner Bros productions until the studio apologized.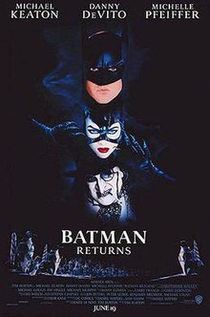 BATMAN RETURNS (12)
Warner Bros. (Denise di Novi & Tim Burton)
W: Daniel Waters [based on characters created by Bob Kane]
PD: Bo Welch
Michael Keaton (Bruce Wayne/Batman), Danny DeVito (Oswald Cobblepot/Penguin), Michelle Pfeiffer (Selina Kyle/Catwoman), Christopher Walken (Max Schreck), Michael Gough (Alfred), Pat Hingle (Commissioner Gordon)
Tim Burton continues his dark vision of the franchise with this sequel to the 1989 film, in which Batman battles with the Penguin, Catwoman and a corrupt businessman called Max Schreck.
Michael Keaton once again delivers a good performance as Bruce Wayne/Batman, but the movie is stolen hook, line & sinker by Michelle Pfeiffer as the bookish secretary Selina Kyle with the sexy, alluring Catwoman as her alter-ego.
Production design, costumes, makeup and the visual effects are all top notch as well, but the film's main weak point is that the villains simply aren't villainous enough and the most menacing of the three is Christopher Walken's shady businessman.
Still, it's better than what Joel Schumacher dished up in the next two instalments to the franchise.
6/10
Did You Know:
The catsuit was vacuum-sealed, making it so tight on Michelle Pfeiffer that she often had trouble hearing her own voice. Tim Burton had to tell her to lower her voice register, because she would often shout her dialogue, instead of just saying it.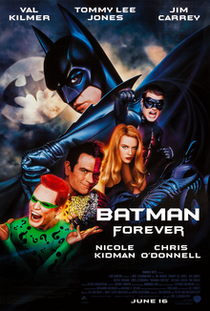 BATMAN FOREVER (PG)
Warner Bros. (Tim Burton & Peter Macgregor-Scott)
W: Lee Batchler, Janet Scott Batchler & Akiva Goldsman [based on characters created by Bob Kane]
Val Kilmer (Bruce Wayne/Batman), Tommy Lee Jones (Harvey Dent/Two Face), Jim Carrey (Edward Nygma/The Riddler), Nicole Kidman (Dr. Chase Meridian), Chris O'Donnell (Dick Grayson/Robin), Michael Gough (Alfred), Pat Hingle (Commissioner Gordon)
Some odious, money-minded studio executive clearly must have thought that the previous two Batman films were far too dark for children, so decided that there'd be all change and the result is something so camp that the 1960's TV show would blush in embarrassment.
Joel Schumacher replaces Tim Burton as director, Val "It's the car right? Chicks love the car" Kilmer steps in as Batman and Gotham City is replaced by some kind of circus.
Chris O'Donnell joins Batman's side as the incredibly obnoxious Robin as they battle criminals Two Face, poorly portrayed by Tommy Lee Jones, and The Riddler (Jim Carrey's madcap performance is probably the only good thing about this film).
All the set pieces are pale imitations of those from the Tim Burton movies and the screenplay is simply pathetic!
"Holy rusted metal, Batman!"? Bollocks!!
4/10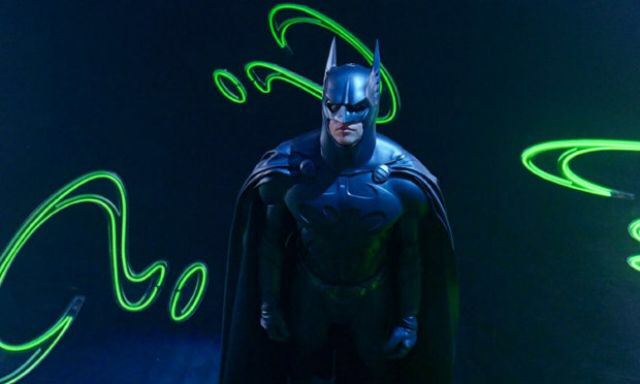 Did You Know:
In the first Batman (1989), District Attorney Harvey Dent was played by Billy Dee Williams. Williams accepted the role with the knowledge and expectation that Dent would eventually become Two-Face. He reportedly had a clause put into his contract, reserving the role for him in any sequels, which Warner Bros. had to buy out, so they could cast Tommy Lee Jones. Williams would eventually voice the character in The Lego Batman Movie.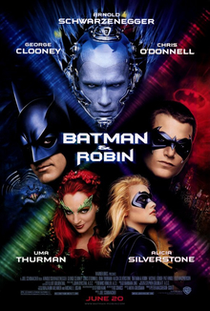 BATMAN & ROBIN (PG)
Warner Bros. (Peter Macgregor-Scott)
W: Akiva Goldsman [based on characters created by Bob Kane]
George Clooney (Bruce Wayne/Batman), Arnold Schwarzenegger (Mr. Freeze), Chris O'Donnell (Dick Grayson/Robin), Uma Thurman (Poison Ivy), Alicia Silverstone (Barbara Wilson/Batgirl), Michelle Gough (Alfred)
Those four words could easily sum this pathetic excuse for a Batman film up perfectly. This is not a film, it's an advert for a range of children's toys!
The excuse for a plot sees Batman and Robin unite to defeat the duo of villains Mr. Freeze and Poison Ivy. Bane also features, but not really. Batgirl is also introduced, but not really. The script just goes from bad pun to bad pun with a couple of hokey action scenes thrown in, all of which are worse than the fights that featured in the campy 1960's TV series.
This film is so hideously bad, it killed off the franchise for 8 years and may have done it forever if it wasn't for the genius of Christopher Nolan.
George Clooney is pathetically miscast as both Bruce Wayne and Batman, Chris O'Donnell & Alicia Silverstone are obnoxious and irritating as his minions, Arnold Schwarzenegger delivers his career-worst performance and Uma Thurman unnecessarily vamps in every single scene.
Everything about this film is bad! The title really should've been Batman & Nipples. At least that way it could've been marketed as a spoof.
1/10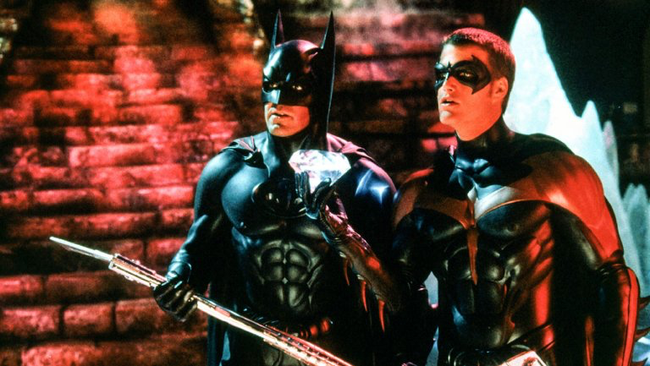 Did You Know:
In interviews, director Joel Schumacher blamed studio pressure to make the film more "toyetic" (i.e., a showcase for marketable toys and games). In a "making-of" documentary on the DVD, he apologized to disappointed fans.