Barefoot In The Park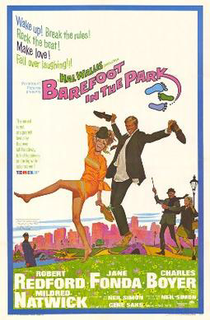 BAREFOOT IN THE PARK (PG)
D: Gene Saks
Paramount (Hal B. Wallis)
US 🇺🇸 1967
106 mins
Comedy/Romance
W: Neil Simon [based on his play]
DP: Joseph LaSchelle
Ed: William A. Lyon
Mus: Neal Hefti
Robert Redford (Paul Bratter), Jane Fonda (Corie Bratter), Charles Boyer (Victor Velasco), Mildred Natwick (Ethel Banks), Herb Edelman (Harry Pepper)
All of Neil Simon's works seem to have a common trademark surrounding mismatched double acts, but for all intents and purposes, it's a theme that always comes up roses (The Odd Couple, The Goodbye Girl, The Sunshine Boys, etc).
In this 1967 adaptation of his stage play, Robert Redford and Jane Fonda play a newly married couple who find that the honeymoon is well and truly over when they move into an impractical New York apartment and realise how little they have in common with each other.  Redford's Paul being a conservative lawyer, whilst Fonda's Corie is more kooky and carefree. 
Their relationship is tested even more with the introduction of an extroverted neighbour with a lust for life which even Corie's mother seems enamoured by.
Set mostly in one room, it's certainly a plot which is suited to the stage, but it makes a translation to screen incredibly well, despite some aspects and mannerisms feeling a little old-fashioned by modern standards.  Even so, the fine performances and witty screenplay make this a jolly good show.
7/10