Barbarella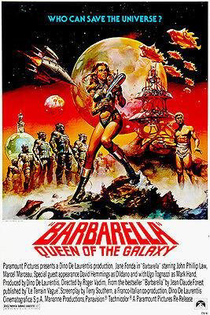 BARBARELLA (15)
Marianne (Dino de Laurentiis)
W: Terry Southern [based on the book by Jean-Claude Forest]
Mus: Bob Crewe & Charles Fox
PD: Mario Garbuglia
Jane Fonda (Barbarella), John Phillip Law (Pygar), Anita Pallenberg (Black Queen of Sogo), Milo O'Shea (Durand Durand), David Hemmings (Dildano), Marcel Marceau (Professor Ping)
Campy cult classic which is actually quite awful and rather badly dated.
It does, however, feature one of the all time sexiest movie characters, portrayed by Jane Fonda, even though she doesn't have to do much acting... but in the swinging sixties, this female equivalent of Flash Gordon won over a huge following with its mix of space adventure and sex comedy.
It's bubble gum entertainment for adults and not at all ashamed about it.
5/10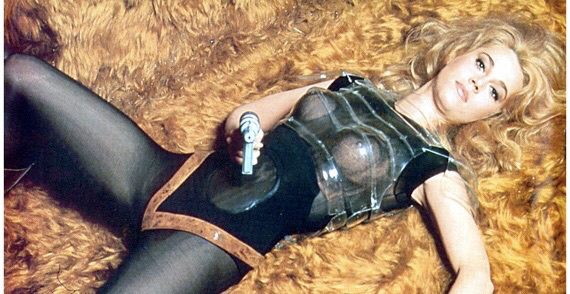 Did You Know:
The film's missing scientist, Durand Durand, inspired the name of 1980s pop group Duran Duran.