Bad Neighbours (1 & 2)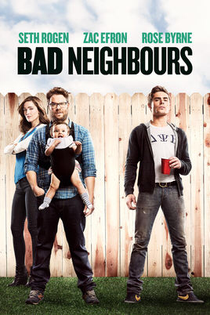 BAD NEIGHBOURS (aka NEIGHBORS) (15)
Universal/Point Grey/Good Universe (Evan Goldberg, Seth Rogen & James Weaver)
W: Andrew J. Cohen & Brendan O'Brien
Seth Rogen (Mac Radner), Zac Efron (Teddy Sanders), Rose Byrne (Kelly Radner), Dave Franco (Pete Regazolli), Christopher Mintz-Plasse (Scoonie Schofield)
Released as Neighbors for its US release, the title was changed to Bad Neighbours for its UK release, so no connection would be made to a popular soap opera. 
Straight couple Seth Rogen & Rose Byrne play thirtysomething husband and wife with a newborn baby living on an idyllic suburban street. Everything goes to pot, however, when a fraternity house of rowdy students, headed by the usually clean-cut Zac Efron, move into the house next door, with all-night parties which cause a rift between the next door neighbours.
The potential for comedy is better than the comedy itself, and though there are a few moments of hilarity, the characters are too smugly annoying to evoke any sympathy for. 
This could have been a comedy with an audience splitting factor, with younger viewers on Team Zac and the older generation rooting for Team Seth. The truth is there's no good guy here and the comedy settles mostly on pot humour, dick and fart gags and ad-libs which are allowed to snowball into exhaustion.
Bad Neighbours isn't a bad movie, but it isn't particularly good either. An awful sequel followed, suffering from lazy writing and truly abhorrent characters.
4/10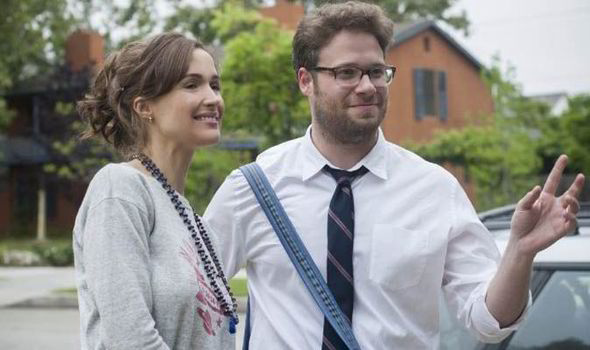 Did You Know:
The film is titled Bad Neighbours in Australia, New Zealand, the United Kingdom, and The Netherlands to avoid confusion with the television soap Neighbours. A video was posted on Universal's Facebook page, showing Seth Rogen singing the theme from the show.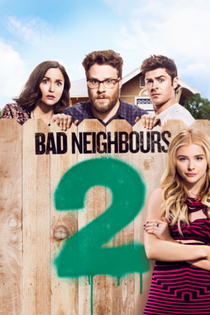 BAD NEIGHBOURS 2 (aka BAD NEIGHBOURS: SORORITY RISING; NEIGHBORS 2) (15)
D: Nicholas Stoller
Universal/Good Universe/Perfect World/Point Grey (Seth Rogen, Evan Goldberg & James Weaver)
USA 🇺🇸 2016
93 mins
Comedy
W: Andrew Jay Cohen, Brendan O'Brien. Nicholas Stoller, Evan Goldberg & Seth Rogen
DP: Brandon Trost
Ed: Zene Baker
Mus: Michael Andrews
Seth Rogen (Mac Radner), Rose Byrne (Kelly Radner), Zac Efron (Teddy Sanders), Chloë Grace Moretz (Shelby)
An incredibly poor and mean-spirited sequel to a film which itself was quite poor and mean-spirited.
It's just a rehash of the original story, except this time it's a sorority house instead of a frat house and the Radners (Rogen & Byrne)are trying to move out of the neighbourhood instead of trying to make peace with their shithead student neighbours.
This time around the humour is more spiteful and the characters are grotesquely reprehensible. Zac Efron turns up again as the twat he played in the original film, while Chloe Grace Moretz plays the exact same character, but the female version.
I'd be more inclined to watch the first film again than this, and I thought the original film was a pile of shit.
2/10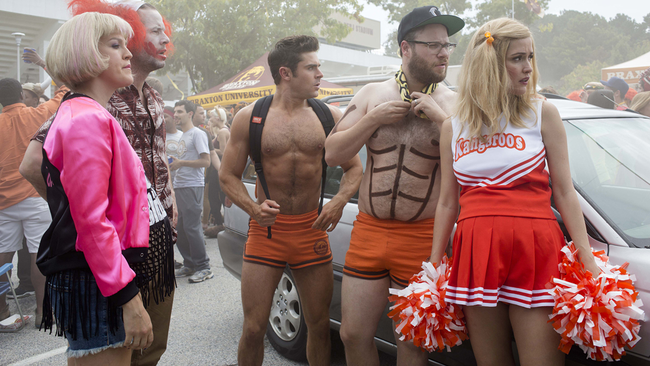 Did You Know:
The theatrical release poster for this movie is a parody of Captain America: Civil War (2016), which also involved two teams fighting against each other.